Viewpoints

ASCO's CancerLinQ go live later this year, ushering in what they described as a transformative era of big data-driven precision cancer care.

The transformation of the treatment of chronic lymphocytic leukemia wins the Society's accolade.
Feature Articles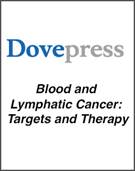 [Blood and Lymphatic Cancer: Targets and Therapy] Myeloma displays considerable heterogeneity and, over time, control of disease can be lost. New strategies to combat myeloma incorporate risk stratification to provide more individualized therapy.

Leukemia is sometimes a solid, metastatic, and invasive neoplasm, but this is forgotten when leukemia is viewed as only a "liquid" cancer.
Featured Videos
Editorial Advisory Board
E. David Crawford, MD
Jeffrey M. Farma, MD
Edith A. Perez, MD
From Oncology Nurse Advisor
Sign Up for Free e-newsletters
Regimen and Drug Listings
GET FULL LISTINGS OF TREATMENT Regimens and Drug INFORMATION