Viewpoints

Non-Hodgkin lymphoma relapse is not a cause for increased anxiety if recurrence is quickly addressed with well tolerated therapy.

ASCO's CancerLinQ go live later this year, ushering in what they described as a transformative era of big data-driven precision cancer care.
Feature Articles

ESMO guidelines account for new criteria in renal cell carcinoma, providing guidance on recommended therapies as new data and kinase inhibitors have emerged.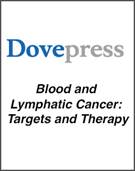 [Blood and Lymphatic Cancer: Targets and Therapy] Myeloma displays considerable heterogeneity and, over time, control of disease can be lost. New strategies to combat myeloma incorporate risk stratification to provide more individualized therapy.
Featured Videos
Editorial Advisory Board
E. David Crawford, MD
Jeffrey M. Farma, MD
Edith A. Perez, MD
From Oncology Nurse Advisor
Sign Up for Free e-newsletters
Regimen and Drug Listings
GET FULL LISTINGS OF TREATMENT Regimens and Drug INFORMATION