Viewpoints

NSAIDs target stem cells that have accumulated mutations that could lead to cancer development and a biochemical pathway that leads to apoptosis.

Many changes occur in the gastrointestinal tract during the aging process that can directly impact gastric motility following surgery.
Feature Articles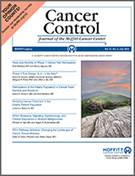 [Cancer Control] Castleman disease is a lesser seen lymphoproliferative disorder, which is characterized as either localized or multicentric, with differing treatments typically utilized for each type.

The Eastern Cooperative Oncology Group (ECOG) conducted a trial to investigate whether treatment deintensification was feasible in patients with HPV-associated cancer.
Featured Videos
Editorial Advisory Board
E. David Crawford, MD
Jeffrey M. Farma, MD
Edith A. Perez, MD
From Oncology Nurse Advisor
Sign Up for Free e-newsletters
Regimen and Drug Listings
GET FULL LISTINGS OF TREATMENT Regimens and Drug INFORMATION