Viewpoints

Prostate specific antigen (PSA) screening in some cases led to overdetection of prostate cancer, and now the same is occurring with recurrence.

NSAIDs target stem cells that have accumulated mutations that could lead to cancer development and a biochemical pathway that leads to apoptosis.
Feature Articles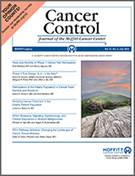 [Cancer Control] Castleman disease is a lesser seen lymphoproliferative disorder, which is characterized as either localized or multicentric, with differing treatments typically utilized for each type.

The Eastern Cooperative Oncology Group (ECOG) conducted a trial to investigate whether treatment deintensification was feasible in patients with HPV-associated cancer.
Featured Videos
Editorial Advisory Board
E. David Crawford, MD
Jeffrey M. Farma, MD
Edith A. Perez, MD
From Oncology Nurse Advisor
Sign Up for Free e-newsletters
Regimen and Drug Listings
GET FULL LISTINGS OF TREATMENT Regimens and Drug INFORMATION