Viewpoints

An observational study suggests that selenium and aspirin may modify a high genetic risk for prostate cancer.

Researchers identify a relationship between exercise activity and television habits in relation to mortality in survivors of colorectal cancer.
Feature Articles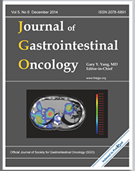 [Journal of Gastrointestinal Oncology] This study examines outcomes of CEC patients treated with CRT and the incidence and potential role of HPV tumor infection in CEC lesions.

Update on available treatment options and potential future developments for metastatic melanoma with and without BRAF mutations.
Featured Videos
Editorial Advisory Board
E. David Crawford, MD
Jeffrey M. Farma, MD
Edith A. Perez, MD
From Oncology Nurse Advisor
Sign Up for Free e-newsletters
Regimen and Drug Listings
GET FULL LISTINGS OF TREATMENT Regimens and Drug INFORMATION