March 07, 2012
Intravesical Chemotherapy for High-Risk Non-Muscle-Invasive Bladder Cancer Refractory to BCG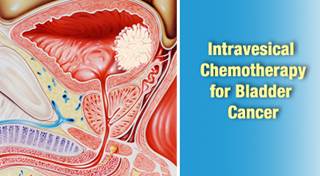 Intravesical Chemotherapy for High-Risk Non-Muscle-Invasive Bladder Cancer Refractory to BCG
References
1. Weizer A.Z., Wasco M.J., Wang R., et al. Multiple adverse histological features increase the odds of under staging T1 bladder cancer. J Urol. 2009;182(3):59–65; discussion 65.
2. Andius P., Johansson S.L., Holmäng S. Prognostic factors in stage T1 bladder cancer: tumor pattern (solid or papillary) and vascular invasion more important than depth of invasion. Urology. 2007;70(4):758–762.
3. Cho KS, Seo HK, Joung JY, et al. Lymphovascular invasion in transurethral resection specimens as predictor of progression and metastasis in patients with newly diagnosed T1 bladder urothelial cancer. J Urol. 2009;182(6):2625–2630.
4. Hall M.C., Chang S.S., Dalbagni G., et al. Guideline for the management of nonmuscle invasive bladder cancer (stages Ta, T1, and Tis): 2007 update. J Urol. 2007;178(6):2314–2330.
5. Raj G.V., Herr H, Serio A.M., et al. Treatment paradigm shift may improve survival of patients with high risk superficial bladder cancer. J Urol. 2007;177(4):1283–1286; discussion 1286.
6. Kulkarni G.S., Finelli A., Fleshner N.E., et al. Optimal management of high-risk T1G3 bladder cancer: a decision analysis. PLoS Med. 2007;4(9):e284.
7. Malmström P.U., Sylvester R.J., Crawford D.E., et al. An individual patient data meta-analysis of the long-term outcome of randomised studies comparing intravesical mitomycin C versus bacillus Calmette-Guérin for non-muscle-invasive bladder cancer. Eur Urol. 2009;56(2):247–256.
8. Lamm D.L., Blumenstein B.A., Crissman J.D., et al. Maintenance bacillus Calmette-Guerin immunotherapy for recurrent TA, T1 and carcinoma in situ transitional cell carcinoma of the bladder: a randomized Southwest Oncology Group Study. J Urol. 2000;163(4):1124–1129.
9. Van der Meijden A.P., Sylvester R, Oosterlinck W, et al. EAU guidelines on the diagnosis and treatment of urothelial carcinoma in situ. Eur Urol. 2005;48(3):363–371.
10. Gallagher B.L., Joudi F.N., Maymí J.L., et al. Impact of previous bacille Calmette-Guérin failure pattern on subsequent response to bacille Calmette-Guérin plus interferon intravesical therapy. Urology. 2008;71(2):297–301.
11. Morales A., Phadke K., Steinhoff G. Intravesical mycobacterial cell wall-DNA complex in the treatment of carcinoma in situ of the bladder after standard intravesical therapy has failed. J Urol. 2009;181(3):1040–1045.
12. Steinberg G., Bahnson R., Brosman S., et al. Efficacy and safety of valrubicin for the treatment of Bacillus Calmette-Guerin refractory carcinoma in situ of the bladder. The Valrubicin Study Group. J Urol. 2000;163(3):761–767.
13. Dalbagni G., Russo P., Bochner B., et al. Phase II trial of intravesical gemcitabine in bacille Calmette-Guérin-refractory transitional cell carcinoma of the bladder. J Clin Oncol. 2006;24(18):2729–2734.
14. Sockett L.J., Borwell J., Symes A., Parker T., Montgomery B.S.I., Barber N.J. (2008). Electro-motive drug administration (EMDA) of intravesical mitomycin-C in patients with high-risk non-invasive bladder cancer and failure of BCG immunotherapy. BJU Int. 101(suppl 5):50 abs #U17.
15. Witjes J.A., Hendricksen K., Gofrit O., Risi O., Nativ O. (2009). Intravesical hyperthermia and mitomycin-C for carcinoma in situ of the urinary bladder: experience of the European Synergo working party. World Journal of Urology. 27(3):319–324.