Palliative Care News & Features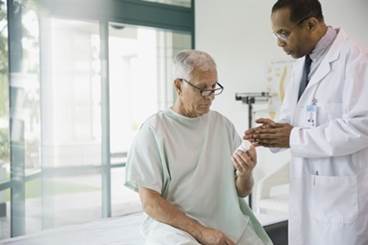 The adjusted OR for receiving any treatment was 0.33 among patients living in an area where at least 20% of the population was below the poverty line.

Clifford Pukel, MD, discusses from an immunological standpoint the mysterious phenomenon of spontaneous regression.

Availability of important services and adequacy of care are among the factors explaining low numbers of patients with hematologic cancers being referred for hospice care.

The American Society of Clinical Oncology Clinical Practice Guideline on the integration of palliative care into standard oncology care has been updated.

Despite the availability of palliative and supportive care at major cancer centers, patients may encounter barriers to accessing these services.

The early integration of palliative care shortly after diagnosis of some incurable cancers improves both a patient's coping abilities and overall quality of life.

The introduction of palliative care shortly after a patient is diagnosed with cancer is associated with improved quality of life.
Continuous deep sedation (CDS) should be considered a viable option for patients with advanced cancer being cared for in a palliative setting.

The median opioid rotation ratio (ORR) from the oral morphine equivalent daily dose (MEDD) to transdermal fentanyl in milligrams per day was 0.01.

Patients with advanced cancer and delirium at an acute palliative care unit (APCU) had a poorer survival rate.
Sign Up for Free e-newsletters
Regimen and Drug Listings
GET FULL LISTINGS OF TREATMENT Regimens and Drug INFORMATION