June 01, 2015
Denosumab Significantly Reduces Fractures in Postmenopausal Women with Breast Cancer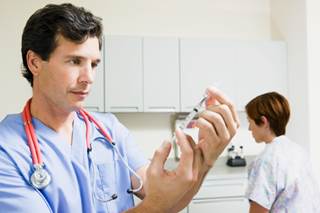 Denosumab significantly reduced fractures in postmenopausal women with breast cancer receiving aromatase inhibitors.
CHICAGO—Adjuvant anti-RANK-ligand denosumab significantly reduced fractures in postmenopausal women with breast cancer receiving aromatase inhibitors (AIs), phase 3 study results presented at the 2015 American Society of Clinical Oncology (ASCO) Annual Meeting concluded.
Denosumab also improved bone mineral density (BMD), said Michael Gnant, MD, of the Medical University of Vienna in Vienna, Austria.
The prospective double-blind, placebo-controlled 58-site Austrian Breast & Colorectal Cancer Study Group (ABCSG)-18 trial recruited 3,425 women with hormone receptor-positive breast cancer who were receiving aromatase inhibitors, which frequently can cause osteopenia, osteoporosis, and fractures, to investigate the adjuvant effects of an antiresorptive treatment such as denosumab.
Patients were randomly assigned to receive either denosumab 60 mg or placebo, administered subcutaneously every 6 months for 36 months.
The primary end point was time from randomization to first clinical fracture. Secondary end points included outcome (disease-free survival and overall survival) and bone effects (BMD changes and/or vertebral fractures).
Dr. Gnant reported that compared with placebo, denosumab significantly delayed the time to first clinical fracture (hazard ratio [HR]=0.5; 95% CI: 0.39, 0.65, P< 0.0001).
The observed reduction in overall fractures between denosumab (92 fractures) and placebo (176 fractures) was similar in prognostic patient subgroups; for example, those with normal bone health at baseline (1,872 patients; HR=0.44; P< 0.0001) and in patients who started the trial already osteopenic (1,548 patients; HR=0.57; P=0.0021).
At 36 months, and compared with placebo, denosumab also significantly increased BMD of the lumbar spine (10.02%), total hip (7.92%) and femoral neck (6.51%); all adjusted P-values<0.0001).
RELATED: Chromosomal Instability Associated with Improved Outcomes in Breast Cancer
No differences were observed between the denosumab and placebo arms for patient incidence adverse events or serious adverse events. Both osteonecrosis of the jaw and atypical fracture have been reported in previous trials of antiresoprtive agents.
A total of 31 dental situations "were identified by proactive monitoring and underwent a predefined adjudication process," Dr. Turner said, with no case meeting the diagnostic criteria of osteonecrosis of the jaw. In addition, "there was no case of atypical fracture in this trial."
"Adjuvant denosumab can be administered at this schedule with a favorable safety profile," Dr. Gnant concluded.
Reference
Gnant M, Pfeiler F, Dubsky PC, et al. Adjuvant denosumab in breast cancer: Results from 3,425 postmenopausal patients of the ABCSG-18 trial. J Clin Oncol. 2015;33:(suppl; abstr 504).