June 06, 2016
Double Autologous HCT Improves Outcomes in High-risk Pediatric Neuroblastoma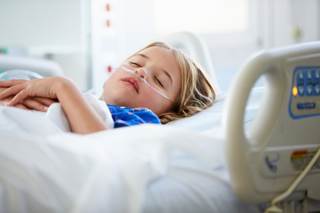 Adding a second autologous hematopoietic cell transplantation to standard therapy improves outcomes for pediatric patients with high-risk neuroblastoma.
CHICAGO — Adding a second autologous hematopoietic cell transplantation (HCT) to standard therapy improves outcomes for pediatric patients with high-risk neuroblastoma, a population in which less than half live 5 or more years after diagnosis, according to results from a phase 3 study presented during a plenary session at the 2016 American Society of Clinical Oncology (ASCO) Annual Meeting .1
"Neuroblastoma is a tumor of neural crest origin that arises in tissue of sympathetic nervous system and occurs in young children," said lead investigator Julie R. Park, MD, professor of medicine at Seattle Children's Hospital and the University of Washington. "Less than 50% of children with high-risk neuroblastoma will survive following current multi-agent, aggressive therapy."
Because pilot studies of tandem autologous HCT demonstrated tolerable toxicity and potential efficacy and because prior trials have demonstrated that dose intensification improves outcomes, researchers decided to explore tandem transplantation in patients with high-risk neuroblastoma.
For the study, researchers enrolled 355 children (median age, approximately 3 years) who were newly diagnosed with high-risk neuroblastoma. Eighty-eight percent had stage IV disease and 38.2% had MYCN amplification.
All patients received multi-agent induction chemotherapy for 6 cycles, including an initial 2 cycles of high-dose cyclophosphamide plus topotecan followed by blood stem cell collection. After completion of induction chemotherapy, patients were randomly assigned to receive a single autologous HCT with CEM (carboplatin, etoposide, melphalan) chemotherapy or a double/tandem autologous HCT with thiotepa plus cyclophosphamide prior to the first transplantation followed by a modified CEM regimen prior to the second. Double transplantations were given in the span of 6 to 8 weeks.
In the single autologous HCT arm, 129 of the 179 patients were subsequently given dinutuximab, an anti-GD2 monoclonal antibody, plus cytokine immunotherapy after single transplant consolidation therapy. Similarly, 121 of the 176 patients in the other arm received this immunotherapy after double transplant consolidation therapy.
Results showed that 3-year event-free survival was 48.4% ± 3.8% with single autologous HCT compared with 61.4% ± 3.7% with tandem autologous HCT (P=.0081). Three-year overall survival was 69.1% ± 3.5% vs 74.0% ± 3.4%, respectively (P=.1850); however, Dr Park noted that the trial was not powered to detect a significant difference in overall survival.
The study further demonstrated that tandem autologous HCT also benefits patients who received immunotherapy, with a significant difference in 3-year event-free survival between the 2 treatment arms (P=.0033).
There was no significant difference in the incidence of treatment-related adverse events between the 2 arms.
"Toxicity or regimen-related mortality is not increased by tandem transplant," Dr Park said.
"This finding will change the way we treat children with high-risk neuroblastoma in North America, which still claims many young lives and is in urgent need of better treatments," said Dr Park. "However, the regimen we use for high-risk neuroblastoma is also the most aggressive and toxic regimen we give to children with cancer. For that reason, future research needs to focus on both exploring possible late effects of current therapy and developing newer less toxic therapies."
Invited discussant for this abstract Dominique Valteau-Couanet, MD, PhD, head of the pediatric and adolescent oncology department at Institut Gustave Roussy in France, questioned which patients actually benefit from tandem autologous HCT: patients with localized disease and MYCN amplification?
She also noted that it is now unclear which is the best consolidation regimen for this patient population, as randomized studies have evaluated different combinations of busulfan, melphalan, thiotepa, cyclophosphamide, and other chemotherapy agents.
RELATED: Myeloma: Adding Liposomal Doxorubicin to Bortezomib Fails to Improve Survival
"There is strong rationale to further explore intensified consolidation in high-risk neuroblastoma," Dr Valteau-Couanet said. "Close collaborating between COG (Children's Oncology Group) and SIOPEN (International Society of Paediatric Oncology Europe Neuroblastoma) will allow for the design of complementary studies to define the most effective risk-tailored intensified strategies."
Reference
Park JR, Kreissman SG, London WB, et al. A phase III randomized clinical trial (RCT) of tandem myeloablative autologous stem cell transplant (ASCT) using peripheral blood stem cell (PBSC) as consolidation therapy for high-risk neuroblastoma (HR-NB): A Children's Oncology Group (COG) study. J Clin Oncol. 2016; 34 (suppl; abstr LBA3).