June 02, 2018
Nivolumab Plus Stereotactic Body Radiotherapy Fails To Improve Outcomes in Head and Neck Cancer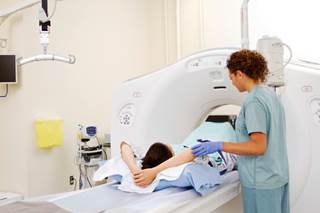 Although the addition of stereotactic body radiation therapy (SBRT) to nivolumab did not increase toxicity, it did not lead to any improvement in response rates or survival outcomes among patients wit
CHICAGO—Although the addition of stereotactic body radiation therapy (SBRT) to nivolumab did not increase toxicity, it did not lead to any improvement in response rates or survival outcomes among patients with metastatic head and neck squamous cell carcinoma (HNSCC), according to an oral presentation at the American Society of Clinical Oncology 2018 Annual Meeting on Friday, June 1.1
Researchers sought to determine whether or not SBRT to a single lesion plus nivolumab would improve abscopal responses (tumor regression in non-irradiated lesions) and other outcomes among this patient population.
In this phase 2 interventional study (ClinicalTrials.gov Identifier: NCT02684253), researchers randomly assigned 53 patients with metastatic HNSCC to receive nivolumab alone every 2 weeks or with SBRT between the first and second doses of nivolumab. The 2 study arms did not have any significant differences in terms of age, EBV/HPV viral status, primary site, or median lines of previous chemotherapy. The median follow-up was 12.8 months.
Results showed that the overall response rate (ORR) was 26.9% (95% CI, 13.7-46.1) compared with 22.2% (95% CI, 10.6-40.8) in the nivolumab alone arm and nivolumab plus SBRT arm, respectively (P = .94). Patients receiving nivolumab alone did not have an evaluable median duration of response (DOR) compared with 9.3 months (95% CI, 55.2-not reached [NR]) among patients in the SBRT arm.
The 1-year overall survival rate was 64% (95% CI, 47-88) in the nivolumab alone arm compared with 53% (95% CI, 36-79) in the nivolumab plus SBRT arm (P = .79); median progression-free survival (PFS) was 1.9 months (95% CI, 1.78-NR) compared with 2.4 months (95% CI; 1.0-11.4) with nivolumab plus SBRT (P = .8).
Treatment-related grade 3 and worse adverse effects were reported in 15% of patients who received nivolumab alone and in 11% of patients who received SBRT plus nivolumab (P = .96).
The authors concluded that "While safe, the addition of SBRT to nivolumab in M1 HNSCC failed to improve ORR, PFS, or OS. This is the first randomized evaluation of the abscopal response in any tumor histology."
Read more of Cancer Therapy Advisor's coverage of the American Society of Clinical Oncology (ASCO) 2018 meeting by visiting the conference page.
Reference
McBride SM, Sherman EJ, Tsai CJ, et al. A phase II randomized trial of nivolumab with stereotactic body radiotherapy (SBRT) versus nivolumab alone in metastatic (M1) head and neck squamous cell carcinoma (HNSCC). Oral presentation at: 2018 ASCO Annual Meeting; June 1-5, 2018; Chicago, IL.