December 09, 2014
Blinatumumab May Be Effective for B-Precursor Acute Lymphocytic Leukemia (ALL)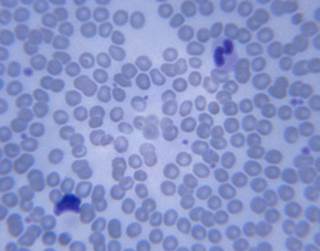 Blinatumomab resulted in complete minimal residual disease (MRD) in 78% of patients with ALL.
SAN FRANCISCO—Blinatumomab , an investigational bispecific T-cell engager (BiTE®) antibody construct, resulted in complete minimal residual disease (MRD) in 78% of patients with acute lymphocytic leukemia (ALL), according to results from the BLAST study (Abstract 379) presented at the 56th American Society of Hematology (ASH) Annual Meeting and Exposition has shown.
Of note, a complete MRD response was observed across multiple patient demographics, including those receiving blinatumomab for second-line therapy and those with high MRD burden.
For the confirmatory, single-arm phase 2 study, researchers sought to investigate the efficacy, safety, and tolerability of blinatumomab in patients with MRD-positive ALL after a previous phase 2 study showed an 80% complete MRD response rate.
Researchers enrolled 116 patients with a median age of 45 years (range 18-76) with B-precursor ALL in hematologic complete response after at least 3 intensive chemotherapy treatments and with MRD greater than or equal to 10-3.
All participants received blinatumomab 15 µg/m²/day by continuous intravenous infusion for 4 weeks, followed by a treatment-free period of 2 weeks. Patients who achieve a response could receive up to 4 treatment cycles or undergo hematopoietic stem cell transplantation (HSCT) after at least 1 cycle. Those who experienced hematologic relapse discontinued treatment with the immunotherapy.
Results showed that as of December 2014, 115 patients had completed treatment. Of those patients, 79 were still alive and receiving follow up. Of 103 evaluable patients for efficacy, 78% (95% confidence interval 96-85) achieved a complete MRD response after only one cycle.
"Among patients in hematologic complete response at the start of treatment and with MRD greater than or equal to 10-3 at screening, 80% achieved a complete MRD response within one cycle," said Nicola Gökbuget from Goethe University Hospital in Frankfurt, Germany, while presenting at the meeting.
In regard to safety, the most common adverse effects (≥20%) were flu-like symptoms associated with T-cell activation.
The most common serious adverse effects (≥3%) included pyrexia, tremor, aphasia, encephalopathy, overdose, neutropenia, and encephalopathy. Gökbuget noted that although neurological events were clinically relevant, "most had a worst event grade 2 or less." Two patients died while on treatment, one as a result of treatment-related atypical pneumonia.
"Follow-up of this trial will investigate whether high MRD response rate translates into long-term clinical benefit such as continued molecular remission and long-term survival," Gökbuget said.
Reference