December 09, 2014
Lenalidomide, Doxorubicin, Dexamethasone (RAD) Induction Triplet Effective in Multiple Myeloma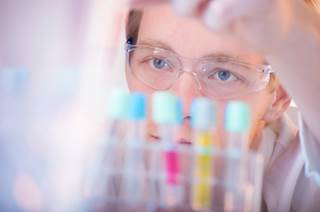 Induction with the lenalidomide, doxorubicin, dexamethasone is effective in newly diagnosed multiple myeloma.
SAN FRANCISCO—Induction with the lenalidomide, doxorubicin, dexamethasone (RAD) triplet is effective in patients with newly diagnosed multiple myeloma, with response independent of cytogenetic risk, results of a phase 2 trial (Abstract 177) reported at the 56th American Society of Hematology (ASH) Annual Meeting and Exposition.
Subsequent double stem cell transplant (SCT) added a high number of complete responses/stringent complete responses, said Stefan Knop, MD, of the Department of Internal Medicine II, Division of Hematology and Medical Oncology, Wuerzburg University Medical Center in Wuerzburg, Germany.
The study enrolled 190 patients at 17 German centers. Median age was 55 years (range, 30-66). A total of 164 patients completed four 4-week induction cycles of lenalidomide 25 mg/day, days 1 to 21; infusional doxorubicin 9 mg/m², days 1 to 4; oral dexamethasone 40 mg, days 1 to 4 and 17 to 20; and pegfilgrastim 6 mg, day 6.
A total of 48 patients underwent allogeneic SCT and 88 proceeded to maintenance with lenalidomide, 69 following tandem auto SCT (melphalan 200 mg/m²) and 19 after auto-allo SCT.
The rate of at least very good partial response increased from 48.0% following RAD induction to 63.2% after the second SCT, Dr. Knop reported; the post-induction complete response/stringent complete response rate of 8.0% increased to 35.8%, accordingly.
At a median follow-up of 27 months, progression-free survival (PFS) was 40.0 months, which is in the range of "continuous" lenalidomide maintenance, Dr. Knop said. In patients receiving double SCT, PFS was not reached, compared with 51.4 months for those who underwent allo SCT.
Median number of maintenance cycles was significantly higher in the patients who received tandem auto SCT versus auto-allo SCT (12 versus 3, respetively; P=0.01).
In the 165 patients with molecular cytogenetic abnormalities assessed by fluorescence in situ hybridization, 29.7% had deletion of (del) chromosome 13q, 11.5% showed translocation (t) (4;14), and 9.1% presented with del 17p.
Among the 31 patients with t(4;14)/del(17p), when response to 4 cycles of RAD induction was compared with 132 patients with normal or not known cytogenetic abnormalities, at least very good partial response rate was comparable (P=0.55). Response did not differ regardless of transplant strategy.
No treatment-related mortality occurred during RAD induction; nonrelapse mortality at 1 year from auto SCT was 2.4%. Incidence of pneumonia was 12.2%; venous thrombosis/embolism, 6.9%, and febrile neutropenia, 5.2%.
Dr. Knop left attendees with the following question: based on these results, does intensified induction/brief maintenance offer patients a treatment-free interval?
Reference