December 08, 2014
Prolonged Survival with Sorafenib Plus Standard Chemo in Younger Patients with Leukemia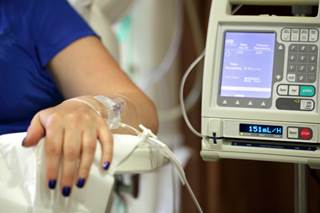 Addition of sorafenib to standard chemotherapy for the treatment of younger patients with AML is effective.
SAN FRANCISCO—The addition of sorafenib to standard chemotherapy in a sequential approach for the treatment of younger patients with acute myeloid leukemia (AML) is feasible and effective, according to results from the SORAML trial (Abstract 6) presented at the 56th American Society of Hematology (ASH) Annual Meeting and Exposition.
For the multicenter, double-blind, placebo-controlled study, 276 patients with newly diagnosed AML were enrolled in the SORAML study.
Patients were between 18 and 60 years of age and able to receive intensive therapy. All patients received daunorubicin 60 mg/m2 on days 3-5 plus cytarabine 100 mg/m2 continuous intravenous infusion on days 1 to 7 for two cycles, followed by cytarabine 3 g/m2 twice daily on days 1, 3, and 5 for three cycles.
Non-responders received second induction with cytarabine 3 g/m2 twice daily on days 1 to 3 plus mitoxantrone 10 mg/m2 on days 3 to 5. Intermediate-risk patients in first complete remission were then scheduled for allogenic stem cell transplantation (ASCT) with a sibling donor, while those at high-risk were scheduled for ASCT with a matched related or unrelated donor.
All patients were randomly assigned to receive either sorafenib 800 mg/day orally or placebo in addition to standard chemotherapy on days 10 to 19 of induction, from day 8 of each consolidation until 3 days prior to the start of the next consolidation, and as maintenance therapy for 12 months following consolidation.
Results showed that 59% of those who received sorafenib achieved a complete response versus 60% of the placebo arm (P=0.764). After a median follow-up of 3 years, the median event-free survival was 9.2 months and 20.5 months for the placebo and sorafenib arms, respectively, and a 3-year event-free survival of 22% versus 40% (P=0.013).
Median relapse-free survival was found to be 23 months for the placebo arm, but not yet reached for the sorafenib arm, corresponding to a 3-year relapse-free survival of 38% for placebo and 56% for sorafenib (P=0.017). The median overall survival had not yet been reached for either treatment arm, corresponding to a 3-year overall survival of 56% and 63% for placebo and sorafenib, respectively (P=0.382).
"At this point, there is no clear benefit in overall survival," Christoph Röllig, MD, from Universitätsklinikum Dresden in Dresden, Germany, said while presenting at the meeting.
The most common grade 3 or higher adverse events observed were fever, infections, and bleeding events. "Sorafenib produces a higher risk of fever, diarrhea, liver toxicity, bleeding events, hand-foot syndrome, and rash," Dr. Röllig said.
Dr. Röllig concluded by saying, "The results provide a high level of evidence for efficacy of sorafenib in younger AML patients," but that "confirmatory trials would be desirable for establishment as new standard."
Reference