July 23, 2014
Researchers Find High Concentrations of Trace Elements in Bone Tumor Tissue
the Cancer Therapy Advisor take:
Each year in Austria about 24 patients are diagnosed with osteosarcoma, a common form of bone cancer. Most patients are between age 10 and 25 years upon diagnosis. The targeted treatment method for patients with osteosarcoma is limited to surgical intervention. Drug-based treatments for osteosarcoma are also limited when compared to other cancers. According to a pioneering worldwide study, researchers discovered that the bone tumor tissue has higher concentrations of trace elements, which could lead to the development of targeted therapies. Jochen Hofstatter, Christina Streli, Klaus Klaushofer, and researchers from MedUni Vienna, Vienna Technical University, and Ludwig Boltzmann worked to initially examine the tumors with electron microscopes. They then used synchrotron radiation, in which a particle accelerator generates x-ray radiation. Since Austria did not have the current technology to carry this out, researchers conducted this part of the experiment in Germany, making this a worldwide study. Although achieving these results was challenging, Hofstatter said this method yielded the most accurate results. The results indicated that the tumor tissue contained higher concentrations of zinc and iron than healthy tissue. Hofstatter said that bone tumors create an environment where the trace elements can form bonds more easily, and the next step is to find out the trace elements' roles.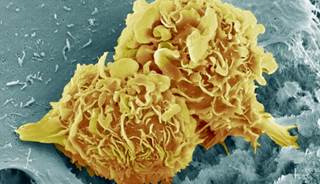 Researchers Find High Concentrations of Trace Elements in Bone Tumor Tissue
In a study that is the only one of its kind worldwide, researchers from the MedUni Vienna, the Vienna Technical University and the Ludwig Boltzmann Institute have investigated the distribution of trace elements in the tissue of bone tumours. This could represent a starting point for the development of targeted therapies for
bone cancer
.
Related Resources
Sign Up for Free e-newsletters
Regimen and Drug Listings
GET FULL LISTINGS OF TREATMENT Regimens and Drug INFORMATION