August 07, 2015
Stratifying for Distant Brain Failure, Whole-brain Radiotherapy Beneficial
the Cancer Therapy Advisor take:
Stratification for early distant brain failure (DBF) and salvage whole-brain radiotherapy (WBRT) in patients initially treated with stereotactic radiosurgery (SRS) may be useful for treatment decision-making for patients with brain metastases, according to an article published online in the journal Cancer.
The authors analyzed the medical records of 270 patients with brain metastases who were treated with SRS from 2003 to 2012.
Results showed significant predictors of early DBF included no prior WBRT, a total lesion volume less than 1.3 cm3, primary breast cancer or malignant melanoma histology, and multiple metastases (≥2). One point was ascribed to each of these identified factors because of their similar hazard ratios.
A score of 0 to 1 indicated low risk; a score of 2 was determined to indicate intermediate risk, while a score of 3 to 4 indicated high risk. The 6-month cumulative incidences of DBF for these three groups were 16.6%, 28.8%, and 54.4%, respectively (P<0.001).
Furthermore, the 6-month cumulative incidence of salvage WBRT in patients without prior WBRT was determined to be 2%, 17.7%, and 25.7%, respectively for the three cohorts (P<0.001).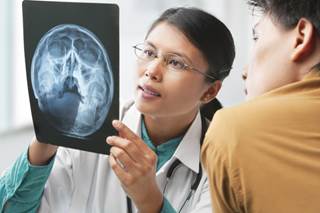 Stratification for early distant brain failure and salvage whole-brain radiotherapy may be useful for brain metastases.
Press, R. H., Prabhu, R. S., Nickleach, D. C., Liu, Y., Shu, H.-K. G., Kandula, S., Patel, K. R., Curran, W. J. and Crocker, I. (2015), Novel risk stratification score for predicting early distant brain failure and salvage whole-brain radiotherapy after stereotactic radiosurgery for
brain metastases
. Cancer. doi: 10.1002/cncr.29590
Related Resources
Sign Up for Free e-newsletters
Regimen and Drug Listings
GET FULL LISTINGS OF TREATMENT Regimens and Drug INFORMATION