August 29, 2014
In Glioma, MiR-181b Regulates Resistance to Teniposide
the Cancer Therapy Advisor take:
According to a new study published in the journal BMC Cancer, researchers have found that miR-181b, a microRNA found in glioma cells that plays a role in tumor progression and drug resistance, increases the sensitivity of glioma cells to teniposide.
In the study, researchers measured miR-181b expression in glioma tissues from 90 patients. When teniposide was administered to 48 primary cultured glioma tissues, researchers tested the cell sensitivity to teniposide.
The researchers found that low expression levels of miR-181b conferred teniposide resistance in primary cultured glioma samples, while overexpression of the microRNA increased sensitivity to teniposide. They also discovered that miR-181b binds to the MDM2 gene, thereby decreasing levels of MDM2 and causing sensitivity to teniposide to increase.
With these findings, research should be conducted to test miR-181b in patients with recurrent glioblastoma opting to undergo treatment with teniposide. A screening test could determine whether a patient will positively respond to treatment with teniposide or not.
Teniposide, a topoisomerase 2 inhibitor, is sometimes used in patients with recurrent glioblastoma in combination with other medications.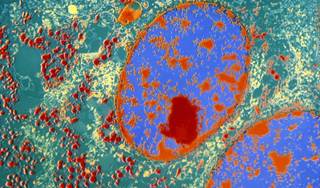 Researchers have found that miR-181b plays a role in tumor progression and drug resistance.
Although the incidence of glioma is relatively low, it is the most malignant tumor of the central nervous system. The prognosis of high-grade glioma patient is very poor due to the difficulties in complete resection and resistance to radio-/chemotherapy.
Therefore, it is worth investigating the molecular mechanisms involved in glioma drug resistance. MicroRNAs have been found to play important roles in tumor progression and drug resistance. Our previous work showed that miR-181b is involved in the regulation of temozolomide resistance.
In the current study, we investigated whether miR-181b also plays a role in antagonizing the effect of teniposide.
Related Resources
Sign Up for Free e-newsletters
Regimen and Drug Listings
GET FULL LISTINGS OF TREATMENT Regimens and Drug INFORMATION