July 09, 2014
'Leading Edge' Radiosurgery May Prolong Survival in Glioblastoma
the Cancer Therapy Advisor take:
Patients with glioblastoma multiforme (GBM), one of the deadliest forms of brain cancer, have a median survival of approximately 16 months. In a study presented at the 17th International Leksell Gamma Knife Society Meeting in New York, researchers have studied the effects of "Leading Edge" radiosurgery on patient outcomes.
"Leading Edge" is an aggressive and strategic radiosurgery performed on patients with life-threatening brain cancer that combines Gamma Knife radiation treatment and diagnostic radiology technology, such as Multivoxel MR-Spectroscopy scans.
Christopher Duma, MD, said although people imagine that tumors grow like snowballs, GBM is different because the tumor cannot be removed because the tumor cells intermix with normal brain tissues. Taking the white matter pathways, GBM migrates throughout the brain. Duma and his research team found that malignant gliomas routinely spread throughout the brain in predictable patterns along these pathways.
For 15 years, the investigators studied 109 patients with newly-diagnosed GBM and found that when "Leading Edge" treatment was used, patients had a median survival of 23 months. In addition, researchers found the survival rate was 19% for 3 years, 12% for 5 years, and 7% for 6 years. This is an improvement from the previous 16-month survival time for patients with GBM.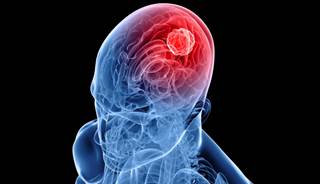 'Leading Edge' Radiosurgery May Prolong Survival in Glioblastoma
A study on the effects of an aggressive and strategic treatment called "Leading Edge" radiosurgery offers hope to patients diagnosed with life-threatening brain cancer. The study identifies the pathways of invasion of malignant glioma cells and provides a map in which a treatment plan can be developed to prevent the spread of one of the most deadly forms of malignant tumor, Glioblastoma Multiforme (GBM). GBM currently has a median survival rate of about 16 months.
"The aim of this new "Leading Edge" approach is not to focus single-fraction Gamma Knife radiation on where the tumor started, but where the tumor is going," said Christopher Duma, MD, FACS, Brain Tumor Program Director at Hoag Memorial Presbyterian in Newport Beach, California. "Everyone thinks a tumor grows like a snowball. This particular brain tumor is different than any tumor in the body. You can't remove it like a tumor. It intermixes with normal brain tissues and spreads through the brain along the white matter pathways."
Related Resources
Sign Up for Free e-newsletters
Regimen and Drug Listings
GET FULL LISTINGS OF TREATMENT Regimens and Drug INFORMATION