July 23, 2014
Researchers Study Malignant Glioma Gene Therapy
the Cancer Therapy Advisor take:
The most common and aggressive form of brain tumor for adults is glioblastoma multiforme (GBM). Surgical resection followed by chemotherapy and radiotherapy is the standard treatment, but improvements in median survival have only been modest. This is because glioma stem cells are resistant to conventional treatments and therefore result in frequent recurrence and invasiveness. According to a study published in Molecular and Cellular Therapies, researchers analyzed the effects of gene therapy, a possible alternative treatment for patients with GBM. This technology changes the genetic complement of cells. James T. Rutka and colleagues identified the different types of gene therapy: suicide gene therapy, which introduces a viral or bacterial gene to tumor cells that converts non-active compounds into deadly active molecules; oncolytic gene therapy, which uses viral vectors to increase toxicity against tumors; cytokine mediated gene therapy, which uses in situ expression of cytokine genes and interferon to activate immune responses specifically against glioma cells; and tumor suppressor gene therapy, which restores inactivated tumor suppressor genes. Although most of these therapies were successful in pre-clinical studies, early clinical studies did not achieve the same successful results. A contributor to this could be the participation of patients with recurrent or advanced GBM disease, who are beyond the curable level.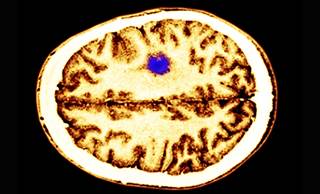 Researchers Study Malignant Glioma Gene Therapy
Gliomas are the most frequently occurring
primary brain tumor
in adults. The current standard of treatment consists of maximal surgical resection followed by radiation and temozolomide (TMZ) chemotherapy. It is now generally accepted that all cancers contain a small population of cells with stem cell like properties called cancer stem cells (CSCs).
Related Resources
Sign Up for Free e-newsletters
Regimen and Drug Listings
GET FULL LISTINGS OF TREATMENT Regimens and Drug INFORMATION