July 25, 2014
SapC-DOPS May Become Potential Metastatic Brain Tumor Treatment
the Cancer Therapy Advisor take:
Spreading from skin, breast, or lung tumors, metastatic brain tumors occur more frequently than primary brain cancers.
There is no treatment for adult patients with cancer with metastatic brain tumors in a majority of cases. According to a study published online in Oncotarget, SapC-DOPS may be a treatment option for these patients that would otherwise have poor outcomes. SapC-DOPS is the combination of a lysosomal protein saposin C (SapC) and a phospholipid called dioleoylphosphatidylserine (DOPS). Lysosomes are organelles that can break down biological components with enzymes, and phospholipids are the building blocks of cell membranes.
Together, they form nanovesicles that can kill tumor cells. Xiaoyang Qi, PhD, and researchers at Cincinnati Cancer Center found that SapC-DOPS killed brain, skin, lung, blood, prostate, breast, and pancreatic cancer cells without harming healthy cells. A barrier to metastatic brain tumor treatment is the challenge in diagnosing and targeting micrometastases, which are tiny tumors that spread from primary tumors. Qi said the study examines how well SapC-DOPS targets brain metastases. Researchers used human lung and breast cancer cell cultures and animal models.
Results showed that the patient groups that received SapC-DOPS injections had extended survival. In addition, two of the animal models were cured from their brain tumors and metastases completely.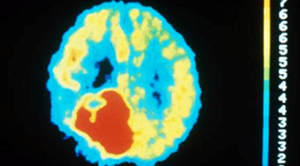 Previously studied SapC-DOPS could be used for treatment of brain cancer that has spread.
Over half of patients being seen in the clinic for a diagnosed brain tumor have metastatic cancer, which has no treatment and detrimental outcomes in most cases. However, a Cincinnati Cancer Center (CCC) study, published in the advance online edition of the journal Oncotarget, provides hope that previously studied SapC-DOPS could be used for treatment of brain cancer that has spread.
Related Resources
Sign Up for Free e-newsletters
Regimen and Drug Listings
GET FULL LISTINGS OF TREATMENT Regimens and Drug INFORMATION