July 02, 2014
Successful First Step for Vaccine Targeting Brain Cancer Mutation
the Cancer Therapy Advisor take:
Glioma is a brain cancer that includes the subtypes astrocytomas and oligodendrogliomas, which are incurable tumors. Low-grade gliomas are extremely difficult to completely remove during surgery, and chemotherapy and radiotherapy treatments also have limited effectiveness against the cancer.
These slow-moving gliomas have the ability to turn into aggressive glioblastomas. More than 70% of patients with low-grade gliomas exhibit identical gene mutations in their tumor cells: the amino acid histidine is inserted into the 132nd position in the molecule's sequence instead of arginine.
Michael Platten, MD, said he and fellow immunologists took note of this frequent mutation, which is a phenomenon that is not found in any other type of tumor. This led to the development of a vaccine that targets the highly specific tumor mutation.
First author Theresa Schumacher said the researchers equipped mice with human MHC molecules, which offer targets to which immune cells respond. After researchers vaccinated the mice with the artificial, mutated IDH1, which is a protein-coding gene, immune cells and antibodies detected the altered ID H1. The immune cells and antibodies therefore targeted the cancer cells and not the healthy cells.
Early next year, the researchers plan to study the safety of this vaccination therapy in human patients.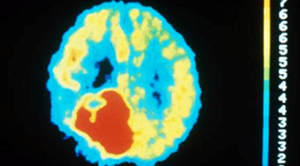 Successful First Step for Vaccine Targeting Brain Cancer Mutation
Astrocytomas and oligodendrogliomas are subtypes of a brain cancer called 'glioma'. These incurable brain tumors arise from glial cells, a type of support cell found in the central nervous system. "Low-grade gliomas", which grow comparatively slowly, spread in a diffuse manner across the brain and are very difficult to completely eliminate through surgery. In many cases, the effectiveness of treatments with chemotherapy and radiotherapy is very limited. Gliomas can develop into extremely aggressive glioblastomas.
Low-grade gliomas have a particular feature in common: more than 70% of the cases exhibit the same gene mutation in tumor cells. An identical "typo" in the DNA causes the exchange of a single, specific protein building block (amino acid) in an enzyme called isocitrate dehydrogenase 1 (IDH1). As a result, most cancer cells do not follow the original building plan for the protein; at the 132nd position in the molecule's sequence, they insert the amino acid histidine instead of arginine.
Related Resources
Sign Up for Free e-newsletters
Regimen and Drug Listings
GET FULL LISTINGS OF TREATMENT Regimens and Drug INFORMATION