January 08, 2019
Better Care for Elderly Patients With Cancer: Dr Arti Hurria's Dream, Realized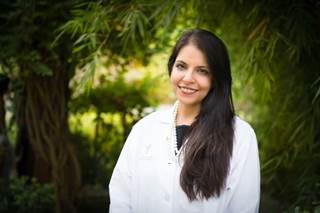 Photo of Dr Arti Hurria, used with permission. Photo credit: City of Hope.
Attendees at SABCS were clearly devastated by the loss of such a revered and beloved leader in the field. Several speakers acknowledged her contributions and offered heartfelt words in her memory.

"I think we can all join in our sorrow for having lost a wonderful colleague and someone who has dedicated so much to all the patients," said session moderator Fatima Cardoso, MD, Champalimaud Clinical Center, Lisbon, Portugal, before the presentation began.
"We are missing her greatly," said second author and study presenter Allison Magnuson, DO, University of Rochester, New York, "but we are committed to honoring her legacy and sharing this important work, which she spearheaded."
The study enrolled patients aged 65 or older across 16 sites with stage I, stage II, or stage III breast cancer. Eligible patients received adjuvant or neoadjuvant chemotherapy. A total of 473 patients were included in the analysis, with 283 patients assigned to the development cohort and 190 individuals placed in the validation cohort.
Patients had a median age of 70 (range, 65-85 years) and most (80%) had stage I or stage II disease. Nearly half were hormone receptor-positive and HER2-negative, and a quarter were triple-negative. Most patients (90.1%) received a polychemotherapy regimen, and 38.1% received an anthracycline-containing regimen.
To calibrate the tool for breast cancer, Hurria and colleagues used the existing CARG score and integrated additional variables, including stage II or stage III disease, receipt of an anthracycline-containing regimen, a planned chemotherapy duration of more than than 3 months, baseline abnormal liver function tests, and 2 additional geriatric-based assessment variables: limited ability in walking a mile and lack of someone to provide advice. Like the original CARG score, the CARG-BC score was on a scale of 0 to 19 and was calculated as low risk (0 to 5), medium risk (6 to 9), or high risk (10 to 19).
The CARG-BC score correlated with grade 3 through grade 5 chemotherapy toxicity. Grade 3 or higher toxicity was reported in 21% of low-risk patients, 45% of medium-risk patients, and 79% of high-risk patients. The CARG-BC score was also associated with dose delay, dose reduction, hospitalization, and reduced relative dose intensity (P < .001).
The CARG-BC score performed better than the original CARG score (area under the curve [AUC] = 0.76; P < .001 vs AUC = 0.64; P = .18). The CARG-BC score also outperformed the physician-rated KPS (AUC = 0.76; P < .001 vs AUC = 0.53; P = .21).
"We've developed and validated a chemotherapy toxicity risk-prediction model for older adults with breast cancer receiving adjuvant or neoadjuvant chemotherapy," concluded Dr Magnuson. She said, "This study truly exemplifies [Dr Hurria's] passion for improving our knowledge about caring for older adults with cancer."
Dr van Londen said Dr Hurria had plans to adopt the generic CARG tool to different tumor types and look at other treatment toxicities, such as those linked to new immunotherapies and targeted therapies. "She had lots of plans to continue to refine this relatively easy tool."
The CARG-BC tool is a step forward for geriatric oncology, but clear guidance is still needed to establish how to best use the score to inform treatment decisions in a clinical setting.
References
Hurria A, Magnuson A, Gross CP, et al. Development and validation of a chemotherapy toxicity (Chemo Tox) risk score for older patients (Pts) with breast cancer (BC) receiving adjuvant/neoadjuvant treatment (Adjuvant Tx): A R01 and BCRF funded prospective multicenter study. Oral presentation at: 2018 San Antonio Breast Cancer Symposium; December 4-8, 2018; San Antonio, TX. Abstract GS6-04.
Hurria A, Togawa K, Mohile SG, et al. Predicting chemotherapy toxicity in older adults with cancer: A prospective multicenter study. J Clin Oncol. 2011;29(25):3457-3465.