June 30, 2014
Blood Test May Predict Breast Cancer Risk A Decade Early
the Cancer Therapy Advisor take:
Almost 12,000 women die each year of breast cancer in the United Kingdom, and breast cancer is the most common cancer diagnosed in Canadian woman over 20 years old. Approximately 10% of breast cancers are caused by BRCA1 and BRCA2 gene variants, which are inherited from parents, while the remaining cases are unexplained.
According to researcher Martin Widschwendter, MD, and scientists at the University College of London, women with BRCA1 mutations had identical molecular changes in their blood as others who developed the disease despite the lack of genetic predisposition.
These changes in the blood were discovered years before the patients' diagnoses. Now researchers are in the process of developing a blood test that predicts risk of breast or ovarian cancer a decade ahead.
In the study, 119 postmenopausal women who developed breast cancer over 12 years and 122 women who remained free of cancer were studied using DNA from blood samples. The proportion of women at a higher risk of breast cancer and who have the epigenetic marker is currently unknown.
This test could be a significant boon for patients, the researchers noted. After undergoing the blood test, women found to have a higher risk of developing breast cancer could then talk to their doctor about lifestyle changes to reduce this risk. For example, factors such as smoking and alcohol could influence the "switch" that turns genes on or off.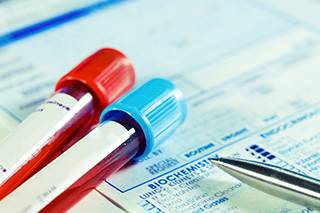 Blood Test May Predict Breast Cancer Risk A Decade Early
A simple blood test which predicts a woman's likelihood of suffering breast cancer is being developed by scientists.
Our immune systems can unmask tumours and cure cancer, experts say, calling immuno-oncology the biggest breakthrough in years. Some have been bold enough to call it a cure for cancer.
Within 5 years, they hope to develop a test which can predict the danger of breast or ovarian concern for up to a decade ahead.
Experts recently said that the findings were a "promising" and exciting prospect, which could in future help protect women.
Related Resources
Sign Up for Free e-newsletters
Regimen and Drug Listings
GET FULL LISTINGS OF TREATMENT Regimens and Drug INFORMATION