May 24, 2017
Breast Cancer Risk Higher in Men Previously Treated for Lymphoma According to Research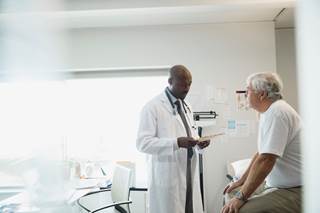 Researchers found that, among men previously treated for lymphoma, the incidence of breast cancer is higher than in the general population.
While the incidence of male breast cancer (MBC) has been increasing over the past 40 years, MBC as a second primary cancer could be related to previous treatment for lymphoma, according to a recent study.1
Results from another study, which examined Swedish survivors of Hodgkin lymphoma, indicated a 2.39-fold increase in risk of development of any cancer; this study also supported data suggesting an increased risk in second primary breast cancer in female survivors of Hodgkin lymphoma.2
For the present study, researchers examined whether an association existed between MBC as a second primary cancer and other, non-MBC previous malignancies.
Data were obtained from the Surveillance, Epidemiology, and End Results (SEER) database; 464 cases of second primary MBC between 1973 and 2012 were identified.
Researchers obtained data on index malignancy as well as estimated standardized incidence ratios (SIRs) of MBC as a second primary cancer.
The association with lymphoma was statistically significant, though this significance did not survive a strict Bonferroni correction.
According to Seema Ahsan Khan, MD, of the Robert H. Lurie Comprehensive Cancer Center of Northwestern University in Chicago, Illinois, "differences between male breast cancer as a first cancer vs a second cancer following lymphoma may relate to the treatment used for the lymphoma; for example, prior use of chemotherapy may mean that the breast cancer would be less sensitive to related chemotherapy drugs. And prior radiotherapy may also imply resistance to radiotherapy."
Dr Khan, a co-author of this study, also noted in an interview with Cancer Therapy Advisor that "we did not have enough data to examine these differences further, so these remain as hypotheses."
The authors also noted that rates of MBC as a first cancer increased 1.3% annually between 1975 and 2012 (P < .001) and as a second primary cancer increased 4.7% annually in the same time frame (P < .001).
These results of significant increases in rates of MBC as a first or second primary malignancy over 4 decades merit additional research, particularly the novel association between lymphoma and MBC as a second primary cancer.
Further research could determine whether genetics, previous treatment, and/or disease biology are responsible for the correlation between the malignancies. The authors note, for example, that "indolent lymphomas, most notably chronic lymphocytic leukemia, can induce a mild chronic immune suppression and may increase the risk of a second primary malignancy on this basis."
Either way, increased vigilance for MBC, particularly among survivors of lymphoma, is warranted.
"We would recommend awareness of the fact that cancer can occur in the male breast, although it is rare. And that men who have been treated for lymphoma appear to be at increased risk. Therefore, if a lump appears or the breast appears to be changing, a medical consultation would be wise," said Dr Khan. "There is really no evidence that imaging surveillance of the male breast would be helpful in this setting."
References
Farr DE, Thomas A, Khan SA, Schroeder MC. Male breast cancer as a second primary cancer: increased risk following lymphoma. Oncologist. 2017 May 9. doi: 10.1634/theoncologist.2016-0460 [Epub ahead of print]
Sud A, Thomsen H, Sundquist K, Houlston RS, Hemminki K. Risk of second cancer in Hodgkin lymphoma survivors and influence of family history. J Clin Oncol. 2017 May 10. doi: 10.1200/JCO.2016.70.9709