November 21, 2014
Subcutaneous Trastuzumab May Be as Safe and Effective as Intravenous Formulation
the Cancer Therapy Advisor take:
According to a updated results of a study published in the journal Annals of Oncology, researchers have found that the safety profile of subcutaneous trastuzumab was consistent with previous data from the phase 3 HannaH study, as well as the safety profile of intravenous trastuzumab.
For the international, open-label study, researchers randomly assigned 596 patients with human epidermal growth factor receptor 2 (HER2)-positive breast cancer to receive eight cycles of neoadjuvant chemotherapy with either 3-weekly trastuzumab 600mg subcutaneously or weight-based trastuzumab intravenously.
Patients completed 1 year of trastuzumab therapy. Results showed the subcutaneous trastuzumab was generally well tolerated and the incidence of adverse effects was similar across both treatment arms.
The researchers note a slightly increased incidence of serious adverse effects with subcutaneous trastuzumab compared with intravenous trastuzumab (64 [21.5%; 95% CI: 17.0%-26.7%] versus 42 [14.1%; 95% CI 10.4%-18.6%].
They attribute this increase to more infections in the subcutaneous arm. Early results show a 95% event-free survival at 1 year after randomization. The findings suggest that subcutaneous trastuzumab may have similar efficacy and safety compared with standard intravenous trastuzumab.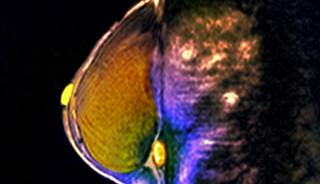 Researchers have found that the safety profile of subcutaneous trastuzumab was consistent with previous data.
HannaH was a phase III, randomized, international, open–label study that compared pharmacokinetics (PK), efficacy, and safety of two different trastuzumab formulations in HER2–positive, operable, locally advanced, or inflammatory
breast cancer
in the neoadjuvant/adjuvant setting.
The authors now report updated safety and efficacy data after a median follow–up of 20 months. Overall, the safety profile of SC trastuzumab was consistent with the previously published data from HannaH and the known safety profile of IV trastuzumab. EFS rates were comparable between the IV and SC groups.
Related Resources
Sign Up for Free e-newsletters
Regimen and Drug Listings
GET FULL LISTINGS OF TREATMENT Regimens and Drug INFORMATION