March 24, 2014
EBCC: Older Women Don't Benefit From Routine Mammograms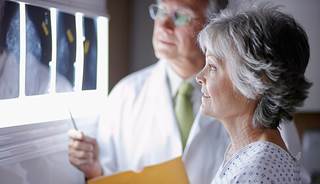 EBCC: Older Women Don't Benefit From Routine Mammograms
(HealthDay News) — Mammogram breast cancer screenings for women aged 70 years and older may cause more harm than good, according to a large new study presented at the European Breast Cancer Conference, held from March 19 to 21 in Glasgow, U.K.
The researchers examined data from the Netherlands, where a mammogram breast cancer screening program was extended in 1998 to include women up to age 75 years. The study included more than 25,000 women, aged 70 to 75 years, who were diagnosed with breast cancer between 1995 and 2011.
According to the researchers, among women in this age group, the number of early-stage breast cancer cases rose from 260 per 100,000 women in 1995 to 382 per 100,000 women in 2011. There was little change in the number of advanced breast cancer cases, however, which fell from 59 per 100,000 women in 1995 to 53 per 100,000 in 2011.
RELATED: Do Mammograms Save Lives?
"A prediction tool should be developed in order to estimate which women are at increased risk of breast cancer and should receive breast cancer screening, instead of screening the whole population," study researchers Gerrit-Jan Liefers, MD, from the Leiden University Medical Centre in the Netherlands, said in a statement.
"For example, an older woman with a long life expectancy who has certain risk factors for developing breast cancer could benefit from breast cancer screening," he said. "In contrast, an older woman with multiple other diseases or life-limiting conditions, and without any risk factors for breast cancer, will only be at risk of overdiagnosis and overtreatment and may not benefit from screening."
Reference