June 19, 2014
Hormone Treatment Common Among Older Breast Cancer Patients
the Cancer Therapy Advisor take:
A recent study has revealed some good news about the use of hormone therapy in older patients with estrogen receptor (ER)–positive breast cancer.
Women over the age of 65 make up about half of the women with breast cancer, and a study published online in the Journal of Clinical Oncology showed that they largely comply with their oncologists' recommendations to use hormone therapy (tamoxifen or aromatase inhibitors) to treat their ER-positive disease. This comprehensive, multi-institutional study included 1,062 women between the ages of 65 and 91 with non-metastatic breast cancer.
However, both ethnic and age disparities were also discovered in this study. Non-white women were less likely to take hormone therapy, and 51.5% of older women (≥ 65 years) discontinued use before the recommended 5 years duration. The risk of discontinuation was higher with increasing age and lower for advanced stages of disease. Investigators were pleased to discover that non-initiation of starting treatment was only 14%, which was a much lower number than previously thought.
According to the lead author, women who were judged to be "frail" may have decided not to initiate hormone therapy because they felt they would not live long enough to benefit, and wanted to avoid any additional toxicities that may add to existing health conditions.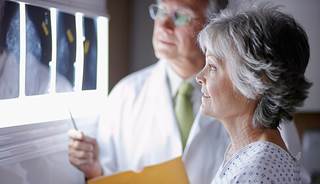 Hormone Treatment Common Among Older Breast Cancer Patients
One of the most comprehensive looks at the use of hormone therapy in women over 65 with non-metastatic breast cancer found some welcome news.
"Women 65 years of age and older comprise about half of patients with breast cancer, but some studies have suggested this group initiates therapy less often and discontinues treatment more frequently than younger or middle aged women," says the study's lead author, Vanessa B. Sheppard, PhD.
Related Resources
Sign Up for Free e-newsletters
Regimen and Drug Listings
GET FULL LISTINGS OF TREATMENT Regimens and Drug INFORMATION