May 28, 2014
Many Women Consider Contralateral Prophylactic Mastectomy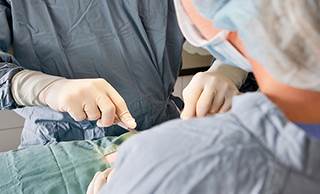 Many Women Consider Contralateral Prophylactic Mastectomy
(HealthDay News) -- A considerable proportion of women with breast cancer consider contralateral prophylactic mastectomy (CPM), according to a study published online May 21 in JAMA Surgery.
Sarah T. Hawley, PhD, MPH, from the University of Michigan in Ann Arbor, and colleagues examined factors associated with use of CPM in a longitudinal survey of women newly diagnosed with breast cancer. A total of 1,447 women were included in the analytical sample.
RELATED: ACS: Contralateral Prophylactic Mastectomy May Not Extend Survival
The researchers found that 18.9% of women strongly considered CPM and 7.6% received it. Of those who strongly considered CPM, 32.2%, 45.8%, and 22.8%, respectively, received CPM, unilateral mastectomy (UM), and breast conservation surgery (BCS). No major genetic or familial risk factors for contralateral disease were identified in the majority of women who received CPM (68.9%).
Significant correlations were seen for CPM with genetic testing (positive or negative; vs. UM and BCS: relative risk ratios [RRRs], 10.48 and 19.10, respectively; P<0.001); strong family history of breast or ovarian cancer (RRRs, 5.19 and 4.24, respectively; P=0.001); receipt of magnetic resonance imaging (RRRs, 2.07 and 2.14, respectively; P=0.001); higher education (RRRs, 5.04 and 4.38, respectively; P<0.001); and greater worry about recurrence (RRRs, 2.81 and 4.24, respectively; P=0.001).
RELATED: Breast Cancer Resource Center
"Many women considered CPM and a substantial number received it, although few had a clinically significant risk of contralateral breast cancer," the researchers wrote. "Worry about recurrence appeared to drive decisions for CPM although the procedure has not been shown to reduce recurrence risk."
In an invited commentary, Shoshana M. Rosenberg, ScD, MPH, and Ann H. Partridge, MD, MPH, of the Dana-Farber Cancer Institute in Boston, said these results highlight the importance of shared decision making.
"Not only should pros and cons of different treatment options be communicated, but there needs to be consideration of the patient's personal circumstances and perceptions, all the while addressing anxiety and concerns about breast cancer recurrence and new primary disease (and the distinction between the two)," they wrote.
"Finding balance around this issue, like the decision process itself, should be a goal shared by patients and clinicians alike."
References
Hawley ST, Jagsi R, Morrow M et al. Social and Clinical Determinants of Contralateral Prophylactic Mastectomy. JAMA Surg. 2014;doi:10.1001/jamasurg.2013.5689.