November 20, 2013
New Insight Into Discordant Breast Tumor Subtyping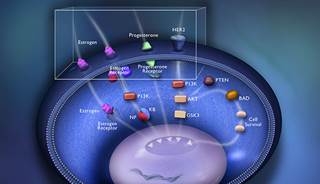 New Insight Into Discordant Breast Tumor Subtyping
Traditional estrogen receptor (ER) testing with immunohistochemistry (IHC) assays—and more recently with mRNA—provides clinicians with a key roadmap for breast cancer subtyping and treatment planning. Patients with ER-positive breast tumors are usually prescribed hormonal therapy; however, as many as 40% of ER-positive tumors do not respond to this type of therapy.
A study published recently in Breast Cancer Research and Treatment has honed in on a possible explanation for some such cases: these traditional tests might yield false-positive ER status results when ERs are present but nonfunctional.1
"We were surprised," said study coauthor Stephanie Akbari, MD, of the Center for Breast Health at the Virginia Hospital Center in Arlington, VA.
"If the estrogen receptor is there, we treat patients with endocrine therapy fully expecting it's going to work," Dr. Akbari said in an interview with ChemotherapyAdvisor.com. "We've built our treatment plans on estrogen receptors. If they're there, that's how we're going to treat someone. Nobody really ever looked into a receptor that's present but not functional."
Dr. Akbari used the analogy of looking out one's kitchen window and seeing a car in the driveway. "We see the car and assume we can drive it. But are there keys? Is there an engine, or gas? That's what we have done with the estrogen receptor: we have assumed that, if it is there, we can block it and prevent the cancer from coming back."
Dr. Akbari and her coauthors used mRNA expression and BluePrintTM molecular subtyping of 2,658 ER alpha (ERα)-positive/human epidermal growth factor receptor-2 (HER2)--negative breast tumors and assessed recurrence risk with the 70-gene prognostic MammaPrintTM expression array. MammaPrint and BluePrint are components of Agendia's Symphony multigene panel.1 MammaPrint was FDA-approved in 2007 as a test of metastasis risk among patients with breast cancer with lymph node–negative tumors smaller than 5 cm in diameter.2
Dr. Akbari and her coauthors found that in about 2% (n=55) of patients, mRNA-assessed ERα-positive tumors demonstrate a discordant BluePrint-determined basal molecular subtype, which typically corresponds to ER- and HER2-negative status. 1
"These ERα-positive basal-type tumors express significantly lower levels of both ERα and progesterone receptor (PR) mRNA as compared to luminal-type tumors (P < 0.0001) and almost invariably (94.5%) have a high-risk MammaPrint profile," the authors reported. 1
"I think this is a piece of the puzzle," agreed Debu Tripathy, MD, of the University of Southern California's Norris Comprehensive Cancer Center, Los Angeles, CA, who was not involved in the study. "The study is not definitive but it provides at least one explanation as to why there is sometimes discordance between breast cancer classification on the basis of estrogen, progesterone, and HER2 receptors by conventional means (ie, protein immunohistochemistry or gene amplification in the case of HER2), versus newer tools involving multigene expression profiling, like MammaPrint or Oncotype Dx."
It is well-recognized that multigene panel results sometimes yield this kind of discordant result compared with IHC test results, Dr. Akbari noted. "We know they don't always agree—but we don't necessarily know why. This may be the first glimpse at how to answer that question more completely."
Looking to the Variants for Explanations
ERα-positive basal-type tumors more strongly express a dominant negative "delta 7" variant than do luminal-type tumors (P < 0.0001), Akbari and her coauthors found.1
Rene Bernards, MD, from the Netherlands Cancer Institute's Cancer Genomics Center Division of Molecular Carcinogenesis, in Amsterdam, The Netherlands, and senior author of the study, explains the delta 7 variant is a "dominant negative mutant" of ER.
"This means that it has the ability to inhibit the activity of the normal ER that is present in the same cell. This explains why cells that have delta 7 variant are scored as 'basal' type—that means ER-negative—in our BluePrint assay."
Yet, while a role for delta 7 in tumor nonresponsiveness to hormonal therapy is biologically plausible, Dr. Bernards said, the clinical evidence is still "thin."
Additional analyses comparing multigene assay results with traditional subtyping tests might uncover other subtyping mirages. "This is probably only one form of the same thing, where something's present but not functional," Dr. Akbari said. "It's a just-the-tip-of-the-iceberg kind of thing."
However, the treatment implications for patients with ERα-positive basal-type tumors are not yet entirely clear.
"Such patients are almost always high risk by MammaPrint assay and should therefore be considered for chemotherapy," emphasized Dr. Bernards.
Dr. Akbari agreed with Dr. Tripathy's assessment, where this new piece of information may help answer a few unknowns. Even though the study suggests that this subset of patients will not benefit from hormone therapy, it's too soon to recommend foregoing endocrine treatment, she was quick to add.
Where Do We Now Stand with Hormone Therapy?
Hormone therapy is "the current standard of care in the United States, and this is a brand-new finding—so it's very difficult to withhold endocrine therapy even though I fully expect it's not going to do anything for these patients," she explained.
"I don't think this one study by itself makes a dramatic change in how we treat patients," agreed Dr. Tripathy. "But we're in the middle of a shift about how we diagnose cancer—especially breast cancer. We're moving toward multigene analysis; instead of looking at one protein or gene, we're looking at a whole panel. The Agendia platform is one of several that are starting to give us a picture with which we might start to reclassify cancers."
The new study encourages clinicians "to step out of our assumptions about how cancer treatment works and think outside of the box," said Dr. Akbari.
"A lot of assumptions we've made in cancer treatment have to be re-examined," she argued. "You could look at the HER2 receptor, or other forms of therapy for patients who have a broken estrogen receptor. Is there a kind of chemotherapy that would work better in these patients, or are these truly triple-negative tumors?"
Faced with discordant IHC and multigene panel findings, it's not yet clear what clinicians should do, Dr. Tripathy noted.
"There are already some oncologists taking these gene profiling results and they trump what they have from traditional assays," he said. "As more and more evidence comes in, more people will do that. I am not doing that yet, but at some point there will be enough evidence for me to do so. This study is an incremental step toward me feeling these signatures can overturn the older assays. I already use these assays to determine when to add chemotherapy to hormonal therapy in specific situations, but I would not withhold hormonal therapy for ER-positive IHC quite yet."
"Prospective clinical trials like the phase 3 multi-institutional study MINDACT (Microarray In Node-negative and 1-3 positive lymph node Disease may Avoid ChemoTherapy; NCT00433589) have completed accrual," Dr. Tripathy said, "But results are not expected for another 2 to 3 years," he noted.
ERα-positive basal-type tumors might be only "the tip of the iceberg" in terms of explaining ER-positive breast tumors that do not respond to hormonal therapy, but that doesn't mean the clinical implications are trivial, Dr. Akbari emphasized.
"People say 2% is a really small number of patients, but we're trying to personalize therapy," she said. "Every patient counts."
References
Groenendijk FH, Zwart W, Floore A, et al. Estrogen receptor splice variants as a potential source of false-positive estrogen receptor status in breast cancer diagnostics. Breast Cancer Res Treat. 2013;140(3):475-484.
Furlow B. The promise of molecular breast tumor subtyping. Chemotherapy Advisor. http://www.chemotherapyadvisor.com/the-promise-of-molecular-breast-tumor-subtyping/article/306539/. Accessed Oct. 29, 2013.