July 15, 2014
Researchers Discover Protein That Leads to Breast Cancer Metastasis
the Cancer Therapy Advisor take:
According to a study published in the journal Nature, researchers discovered a protein that causes breast cancer cells to metastasize by blocking two other proteins normally associated with neurodegeneration.
The results of the study indicate a possible connection between the two disease processes. Senior author Sohail F. Tavazoie and researchers at Rockefeller University studied cancer cell regulation with technology developed by Hani Goodarzi and Saeed Tavazoie. The tool not only looks at RNA sequences, but also the shape of the RNA.
Researchers found that certain parts of RNA messenger make hairpin loops, and that the RNA's shape is important because it determines whether protein binding sites are exposed or hidden. When a protein binds to RNA, it can regulate the RNA and give it commands, such as telling the cell to self-destruct.
The newly developed tool is a computer algorithm that scans cancer cell samples and finds patterns in the shapes and sequences of the RNA. For this study, researchers used the tool on breast cancer cells to identify the protein TARBP2, which aids in microRNA formation. This protein binds to over-represented hairpin loops and therefore stimulates metastasis.
In addition, researchers found that TARBP2 downregulated two proteins, APP and ZNF395, in metastatic cell lines.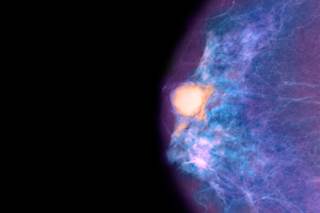 Researchers Discover Protein That Leads to Breast Cancer Metastasis
Using an innovative tool that captures heretofore hidden ways that cells are regulated, scientists at Rockefeller University have identified a protein that makes
breast cancer
cells more likely to metastasize. The study, which appears in the journal
Nature
, points to the possibility of new cancer therapies that target this "master regulator" that helps set metastasis in motion.
Related Resources
Sign Up for Free e-newsletters
Regimen and Drug Listings
GET FULL LISTINGS OF TREATMENT Regimens and Drug INFORMATION