July 30, 2014
Researchers Search for BRCA1 Treatment Option for Hereditary Breast Cancer
the Cancer Therapy Advisor take:
According to the National Cancer Institute, approximately 12% of women in the United States will develop breast cancer in their lifetime.
In women who inherit a BRCA1 mutation, 55% to 65% will develop breast cancer by the age of 70. Commonwealth Health Research Board awarded a grant to Deborah Kelly, PhD, and Zhi Sheng, PhD, from Virginia Tech Carilion Research Institute to study hereditary breast cancer, which may lead to possible treatment options for those who inherit the harmful BRCA1 genes in Virginia.
Breast cancer related to BRCA1 mutations are linked to poor outcomes, and residents of Virginia have a statistically poorer outcome than the rest of the United States. Dr. Kelly said that BRCA1-related tumors lack HER2 receptors, estrogen, and progesterone, which are drug targets that are effective for other types of breast cancer.
Since no targeted treatments for patients with BRCA1-related tumors exist, the disease is more aggressive and more likely to recur. A healthy BRCA1 gene is a tumor suppressor and produces a protein that assists in repairing damaged cell DNA before mitosis, or cell division.
When there is a mutated BRCA1 gene, the gene cannot properly repair and protect damaged DNA, which causes cells to become cancerous.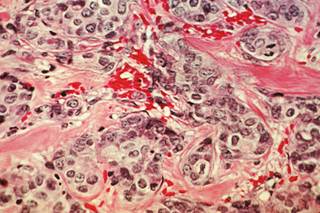 Researchers at Virginia Tech recently received a grant to investigate hereditary breast cancer.
Deborah Kelly and Zhi Sheng, assistant professors at the Virginia Tech Carilion Research Institute, recently received a grant from the Commonwealth Health Research Board to investigate hereditary breast cancer, an effort that may lead to new treatment approaches.
The grant will fund a two-year project to study the mechanisms behind hereditary breast cancer related to the BRCA1 gene.
Related Resources
Sign Up for Free e-newsletters
Regimen and Drug Listings
GET FULL LISTINGS OF TREATMENT Regimens and Drug INFORMATION