October 29, 2014
Trastuzumab Plus Vinorelbine May Be an Effective Alternative for HER2-Positive Breast Cancer
the Cancer Therapy Advisor take:
According to a new study published in the journal Current Oncology, trastuzumab and vinorelbine is an effective alternative to standard taxane-based chemotherapy for patients with early stage or locally advanced human epidermal growth factor receptor 2 (HER2)-positive breast cancer.
Researchers at Jewish General Hospital in Montreal, Quebec, Canada, sought to investigate through a retrospective analysis whether trastuzumab plus vinorelbine is a viable alternative to a taxane plus an anthracycline. Some patients refuse to this standard backbone of chemotherapy regimens for patients with HER2-positive breast cancer because of its common adverse effect of alopecia. In addition, some patients may have a contraindication to receive either of those drugs.
For the study, researchers identified 46 patients with a mean age of 64 years who received trastuzumab plus vinorelbine beetween 2003 and 2010. Most patients received the combination therapy weekly for 6 months, followed by trastuzumab alone for 6 months. Results showed a median 5-year overall survival rate of 94% and a median 5-year cancer-specific survival rate of 98%.
One patient died as a result of febrile neutropenia-induced sepsis. The most common grade 3 or 4 adverse effects included neutropenia, febrile neutropenia, fatigue, and anemia.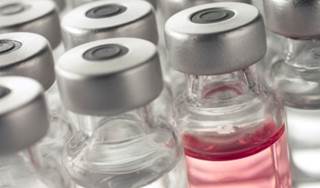 Trastuzumab and vinorelbine an effective alternative to standard chemo.
The authors report the institutional experience with trastuzumab and vinorelbine (tv), a combination with good clinical activity and a good side effect profile for patients with
her2–positive breast cancer
. For patients with non–metastatic breast cancer refusing alopecia, or for patients who are not candidates for standard chemotherapy, tv is a reasonable alternative to standard adjuvant chemotherapy.
Related Resources
Sign Up for Free e-newsletters
Regimen and Drug Listings
GET FULL LISTINGS OF TREATMENT Regimens and Drug INFORMATION