July 07, 2015
FDG-PET in Predicting Response Rates in Triple-Negative Breast Cancer
the Cancer Therapy Advisor take:
The assessment of metabolic response and epidermal growth factor receptor (EGFR) using fluorodeoxyglucose positron emission tomography (FDG-PET) may assist physicians in predicting the likelihood of achieving pathological complete response (pCR), according to an article published online in the journal Clinical Cancer Research.
The authors of this study aimed to assess the response of metabolic tumors to 18F- FDG-PET compared to using clinicobiological markers to predict pCR to neoadjuvant chemotherapy (NAC) in patients with triple-negative breast cancer (TNBC).
Participants included 50 women diagnosed with TNBC and an indication for NAC. Evaluated factors included pre-treatment clinical, biological, and pathological biomarkers (eg, Scarff-Bloom-Richardson [SBR] grade, the Ki-67proliferation index, EGFR).
Furthermore, FDG-PET was used to assess the baseline tumor glucose metabolism and its change after the first cycle of NAC (ΔSUVmax).
Results showed the pCR rate (42%) was associated with a high Ki-67 proliferation index (P=0.016), a negative EGFR result (P=0.042), and a high ΔSUVmax (P=0.002). Negative EGFR status (OR=6.4; P=0.043) and high ΔSUVmax (OR=7.1; P=0.014) were both determined to be independent predictors of pCR.
A combination of a low ΔSUVmax and a positive EGFR status result predicted non-pCR in patients with a 92% accuracy.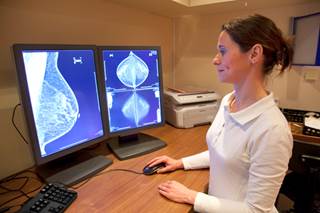 Assessment of metabolic response and EGFR using FDG-PET may assist physicians in predicting the likelihood of response.
Researchers investigated the value of the metabolic tumor response assessed with FDG-PET, compared with clinico-biological markers to predict pCR to neoadjuvant chemotherapy in women with triple-negative
breast cancer
.
Related Resources
Sign Up for Free e-newsletters
Regimen and Drug Listings
GET FULL LISTINGS OF TREATMENT Regimens and Drug INFORMATION