July 22, 2014
US Patients Have Higher Breast Cancer Diagnosis Costs Than Those in Europe
the Cancer Therapy Advisor take:
According to a study released by iData Research, European health authorities purchased approximately 500,000 more biopsy needles than United States officials in 2013.
Kamran Zamanian, PhD, and colleagues at iData said that Europe buys inexpensive spring-loaded core needles more than four times as much as the United States. In 2013, Europe spent under 60% of what the United States spent on the biopsy needles.
One factor in this situation is that the United States puts an emphasis on minimally invasive technologies, which are more expensive, while Europe focuses on cost-effective technology. The United States leans toward using new minimally invasive vacuum-assisted biopsy (VABB) devices, which has a market value twice as large for the United States than Europe.
In addition, the United States invests in new technologies with ultrasound, x-ray guidance, and magnetic resonance and molecular imaging guidance techniques.
Another contributor to the disparity between the United States and Europe is the growing market value for breast biopsy devices in the United States. Europe's breast cancer needle market is projected to grow by about $10 million in 2019 while the United States market is projected to grow about $33 million.
The targeted group for breast cancer screening and treatment is women over the age of 40 for both Europe and the United States.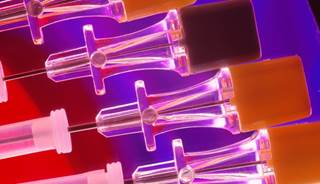 US Patients Have Higher Breast Cancer Diagnosis Costs Than Those in Europe
With just under 60% of the amount spent in the U.S., European health authorities bought close to 500,000 more biopsy needles for
breast cancer
treatment and prevention. According to breast cancer biopsy market data released by iData Research (www.idataresearch.com), the European health authorities brought almost 500,000 more biopsy needles in 2013.
Related Resources
Sign Up for Free e-newsletters
Regimen and Drug Listings
GET FULL LISTINGS OF TREATMENT Regimens and Drug INFORMATION