August 06, 2014
Women Over 75 Still Benefit From Mammograms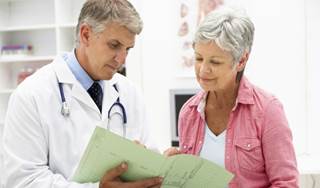 Breast cancer survival better in women whose cancer was detected by mammography.
Women 75 and older may still benefit from routine mammograms, according to new research. The study was published online in Radiology.
In the new study, Judith Malmgren, Ph.D., an affiliate assistant professor at the University of Washington School of Public Health and Community Medicine in Seattle, and colleagues looked at data from a registry of women with breast cancer. They found more than 1,100 women over age 75 diagnosed with early- to late-stage breast cancer from 1990 to 2011.
The detection of cancers with mammography increased over time during the study, from 49 to 70 percent. Most mammography-detected cancers were in the early stage, while those found by doctors and patients were more likely to be advanced. Those detected by mammography were more likely to need less aggressive treatments as well.
RELATED: Do Mammograms Save Lives?
The researchers found that breast cancer survival was better in women whose cancer was detected by mammography, with 97 percent alive five years later. In comparison, 87 percent of those with invasive cancers found by their doctor or themselves were alive at the five-year mark.
"Mammography detects breast cancer early, when it's more treatable and the risk of death is very low," Malmgren told HealthDay. "If it's not detected by a mammogram and it's detected by the physician or the patients, women are more likely to have advanced stage disease and there is a higher risk of death."