July 31, 2015
Tyrosine Kinase Inhibitors May Be Safe For Chronic Myeloid Leukemia
the Cancer Therapy Advisor take:
Tyrosine kinase inhibitors (TKIs) may be a safe treatment option for patients with chronic-phase (CP) chronic myeloid leukemia (CML) and chronic kidney disease (CKD), according to an article published online in the journal Cancer.
Participants in this study included 468 patients recently diagnosed with CP-CML who were administered TKIs. The investigators followed the molecular and cytogenetic response data, creatinine, and glomerular filtration rate (GFR) from baseline to the last follow-up (median, 52 months).
Results showed 19 patients (4%) had TKI-associated acute kidney injury (AKI). A higher incidence of AKI was related to imatinib compared to dasatinib and nilotinib (P=0.014).
The authors reported 58 patients (14%) who were administered TKI developed CKD, 49 (84%) of which were also receiving imatinib (P<0.001). It was reported that the development of CKD was also linked to age, a history of hypertension, and diabetes mellitus.
Imatinib was observed to reduce GFR over time in patients with no CKD at baseline; however, this reduction was not observed in patients with a history of CKD.
After 3 months of receiving imatinib, dasatinib, or nilotinib, it was reported that each drug increased the mean GFR—nilotinib was associated with the most significant increase (P<0.001).
No significant effects were observed related to AKI or CKD and overall cytogenetic and molecular response rates or survival.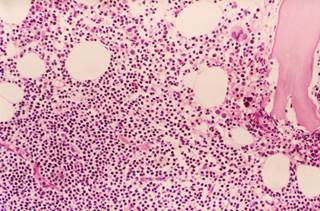 Tyrosine kinase inhibitors may be a safe treatment option for patients with chronic-phase chronic myeloid leukemia.
Yilmaz, M., Lahoti, A., O'Brien, S., Nogueras-González, G. M., Burger, J., Ferrajoli, A., Borthakur, G., Ravandi, F., Pierce, S., Jabbour, E., Kantarjian, H. and Cortes, J. E. (2015), Estimated glomerular filtration rate changes in patients with
chronic myeloid leukemia
treated with tyrosine kinase inhibitors. Cancer. doi: 10.1002/cncr.29587
Related Resources
Sign Up for Free e-newsletters
Regimen and Drug Listings
GET FULL LISTINGS OF TREATMENT Regimens and Drug INFORMATION