September 06, 2013
Dr. Edith Perez's Recommended Abstracts at BCS 2013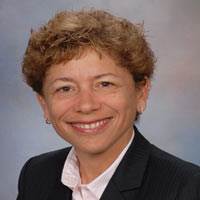 Edith A. Perez
We spoke with breast cancer expert Dr. Edith Perez, Deputy Director, Mayo Clinic Cancer Center and member of the ChemotherapyAdvisor.com Editorial Board, about which abstracts at the Breast Cancer Symposium 2013 she thought were the most noteworthy. Check out her selections below, and click on the name of each abstract to view a related news brief.
Click here to read Dr. Perez's complete bio.
Click here to view more news coverage from BCS 2013
---
Abstract #11: Quantitative gene expression by RT-PCR in classic and variant lobular carcinoma in ER+ breast cancer. (A10)
Joseph Michael Anderson - Genomic Health, Inc.

Abstract #12: L-Dex ratio in detecting and diagnosing breast cancer-related lymphedema: Reliability, sensitivity, and specificity. (B11)
Mei R. Fu - New York Unversity

Abstract #13: National survey of breast cancer screening in rural America. (B12)
Jeffrey M. Peppercorn - Duke Cancer Institute

Abstract #18: DtectDx Breast: A serum biomarker test for breast cancer detection used in conjunction with traditional mammography screening. (B17)
Meredith C. Henderson - Provista Diagnostics
Abstract #28: Integrated analyses of DNA copy number variations and gene expression in inflammatory breast cancer (IBC). (C10)
Mian Xie - Translational Research Laboratory, The First Affiliated Hospital of Guangzhou Medical University
Abstract #108: Taking control of cancer: Why women are choosing mastectomy. (A6)
Andrea Marie Covelli - University of Toronto

Abstract #109: Webinars as a tool for breast cancer survivorship education. (A7)
Elissa Thorner Bantug - Johns Hopkins School of Medicine, Sidney Kimmel Comprehensive Cancer Center
Abstract #110:
Patient experiences and preferences for survivorship care. (A8)
Kelly Westbrook Mitchell - Duke University Medical Center
Abstract #127: Weight change in patients with treatment of breast cancer. (C20)
Lubna Chaudhary - West Virginia University
Abstract #166: Trastuzumab emtansine (T-DM1) in previously treated HER2-positive metastatic breast cancer (MBC): Results from an expanded access study. (E3)
Denise Aysel Yardley - Sarah Cannon Research Institute
Abstract #172: Open-ended concept elicitation with breast cancer (BC) patient advocates to inform patient-reported outcome (PRO) endpoints in neoadjuvant and adjuvant trials of trastuzumab emtansine (T-DM1). (E9)
Alicyn K. Campbell - Genentech, Inc.
Abstract #174: Real-world analysis of eribulin in metastatic breast cancer (MBC): An assessment of time to treatment failure (TTF) in a community oncology setting. (E11)
George Dranitsaris - Augmentium Pharma Consulting