April 14, 2016
Immunotherapy With Live Bacterium Plus Chemo Improves Response Rate in Pleural Mesothelioma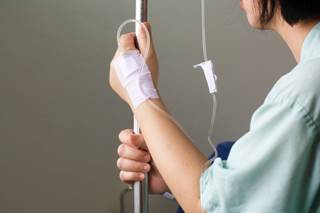 CRS-207 plus chemotherapy demonstrated encouraging clinical activity in patients with malignant pleural mesothelioma.
CRS-207, an agent that combines immunotherapy with live bacterium, plus chemotherapy demonstrated encouraging clinical activity in patients with malignant pleural mesothelioma, a late-breaking study presented at the European Lung Cancer Conference (ELCC) 2016 has shown.1
"Malignant pleural mesothelioma is a cancer of the lining of the lung and is rare but difficult to treat," said Thierry Jahan, MD, professor of medicine at the UCSF Helen Diller Family Comprehensive Cancer Center in San Francisco, CA. "Standard of care treatment with pemetrexed and platinum compound chemotherapy gets a 30% response rate but a modest impact on survival. So there is a clear unmet need in targeting this specific population."
CRS-207 is a live, attenuated Listeria monocytogenes bacterium consisting 2 gene deletions to diminish its pathogenicity. It has also been engineered to express mesothelin. Mesothelin is strongly expressed in the tumors of patients with malignant pleural mesothelioma.
"In our early studies, CRS-207 induced an anti-mesothelin response and cellular tumour specific immunity in patients with mesothelin expressing tumours," Dr Jahan said. "We also have data suggesting that this immunotherapy works synergistically with chemotherapy, so testing the effect of this immune targeting agent with chemotherapy was a natural step."
For the current study, researchers enrolled 38 chemotherapy-naïve patients with advanced unresectable mesothelioma who were eligible to receive chemotherapy.
All participants received 2 infusions of CRS-207 2 weeks apart in combination with pemetrexed 500 mg/m2 and cisplatin 75 mg/m2 every 3 weeks for up to 6 cycles. Patients then received 2 additional CRS-207 infusions 3 weeks apart. Eligible patients could receive maintenance therapy with CRS-207 every 8 weeks until disease progression.
Results showed that at a median follow-up of 9.4 months, 59% of the 34 evaluable patients achieved a partial response and 35% achieved stable disease. Median progression-free survival was 8.5 months while median overall survival had not yet been reached.
In terms of safety, the most frequently reported CRS-207-related adverse events include grade 1 or 2 infusion-related pyrexia, chills/rigors, hypotension, and nausea/vomiting. The infusion-related fever and chills resolved within 24 hours. Of note, no treatment-related serious adverse events or deaths occurred.
"The safety of the agent was remarkable," said Dr Jahan. "It really does appear to be safe, and was well-tolerated in combination with pemetrexed and platinum chemotherapy. There didn't seem to be any cumulative toxicity."
RELATED: Adding Bevacizumab to Maintenance Pemetrexed Improves PFS in Advanced Nonsquamous NSCLC
"CRS-207 is an exciting agent for patients with mesothelioma," Dr Jahan concluded. "Our preliminary results are encouraging, suggesting superior clinical activity when added to standard chemotherapy."
A randomized trial evaluating the impact of CRS-207 is expected to be underway later in 2016.
Reference
Jahan T Hassan R, Alley E, et al. CRS-207 with chemotherapy (chemo) in malignant pleural mesothelioma (MPM): results from a phase 1b trial. Oral presentation at: European Lung Cancer Conference 2016; April 13-16, 2016; Geneva, Switzerland.