July 23, 2014
Analysis Reveals Two Possible Intestinal Neuroendocrine Tumor Subtypes
the Cancer Therapy Advisor take:
Tumor transcriptomes, when applied to clinical settings, contain critical information about the pathways linked to metastasis and malignancy or drug dependency. They reveal information about cells at the physical and pathological level, and utilizing this method can be used to assess and manage tumor behavior. Ignat Drozdov and colleagues used two publically available tumor transcriptomes to analyze small intestinal neuroendocrine tumors. With the expression of core secretory regulatory elements (e.g. CPE, PCSK1, SCN3A, NKX2-2, NeuroD1, INSM1, and APLP1) validated, researchers used strict quality control parameters. Results indicated that ST18, a metastasis-associated transcription factor, had high levels of expression. In addition, CEBPA and SDHD, genes that were previously associated with neoplasia, had low levels of expression. The results indicated that the intestinal neuroendocrine tumors could be split into two subtypes: serotonin-producing neoplasms and serotonin/substance P/tachykinin lesions. Researchers analyzed a quantitative polymerase chain reaction QPCR) in a sample of 13 tumors and found 87 percent of the genes had up-regulated expression. Overall, the results showed that small intestinal neuroendocrine tumors are regulated at the developmental level. They are associated with the activation of hypoxic pathways and genes involved in proliferation and apoptosis, or cell death. Further analyses refinements could lead to the development of novel therapies.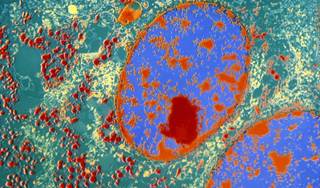 Analysis Reveals Two Possible Intestinal Neuroendocrine Tumor Subtypes
The availability of public genome-wide expression datasets, provide an opportunity to reassess neuroendocrine tumors at a more fundamental level. Researchers re-analyzed two publicly available small intestinal tumor transcriptomes using stringent quality control parameters and network-based approaches and validated expression of core secretory regulatory elements e.g., CPE, PCSK1, secretogranins, including genes involved in depolarization e.g., SCN3A, as well as transcription factors associated with neurodevelopment (NKX2-2, NeuroD1, INSM1) and glucose homeostasis (APLP1).
Related Resources
Sign Up for Free e-newsletters
Regimen and Drug Listings
GET FULL LISTINGS OF TREATMENT Regimens and Drug INFORMATION