September 11, 2017
No Difference in Survival With CT Scan at Follow-ups for Resected NSCLC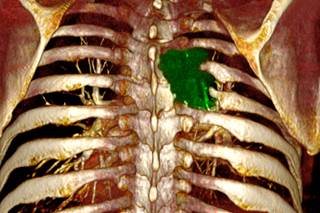 Although these data did not demonstrate improved survival with the inclusion of a CT scan at routine follow-up visits, the authors noted that a longer follow-up time is necessary to identify any long-
CT-based follow-up of completely resected non–small cell lung cancer (NSCLC) yielded similar survival outcomes as the standard clinical exam and chest X-ray, according to a study presented at the European Society for Medical Oncology (ESMO) 2017 Congress in Spain.1
The recommendation to include CT scans in follow-up visits after complete resection of NSCLC by several clinical practice guidelines is based on poor evidence. The purpose of this randomized, controlled trial was to determine if CT scans conducted at routine follow-up visits after NSCLC resection improves outcomes.
For the phase 3 IFCT-0302 trial (ClinicalTrials.gov Identifier: NCT00198341), researchers randomly assigned 1775 patients with stage I, II, IIIA, and T4 N0-2 NSCLC that was completely resected to undergo follow-up comprised of standard of care with clinical exam and chest X-ray or standard of care plus thoraco-abdominal CT scan (plus optional bronchoscopy for adenocarcinomas). Follow-up visits occurred every 6 months for 2 years, then yearly for 3 additional years.
Baseline characteristics were similar between groups, with a median age of 63 and postoperative radiotherapy or chemotherapy in 8.7% and 45% of patients, respectively.
During the median follow-up of 8.7 years (95% CI, 8.5-9.0 years), there was no significant difference in the primary endpoint of overall survival (OS) with CT scan compared with the standard of care. There was, however, a trend toward prolonged survival with CT scan, with a median of 10.3 years (95% CI, 8.5-not reached) compared with 8.2 years (95% CI, 7.4-9.6 years) with standard follow-up (hazard ratio, 0.92; 95% CI, 0.8-1.07; P = .27).
The 8-year OS rates were also similar at 55.6% (95% CI, 51.7-59.4%) and 51.1% (95% CI, 47.2-55.1%) with CT scan and standard follow-up, respectively.
The 3-year disease-free survival rates were similar, at 60.2% (95% CI, 57.0-63.4%) and 63.3% (95% CI, 60.2-66.5%) in the arms with CT scan or standard follow-up, respectively.
RELATED: Osimertinib Shows Promise As A First-line Therapy in EGFRm NSCLC
Although these data did not demonstrate improved survival with the inclusion of a CT scan at routine follow-up visits, the authors noted that a longer follow-up time is necessary to identify any long-term OS benefits.
Read more of Cancer Therapy Advisor's coverage of the European Society of Medical Oncology (ESMO) 2017 Congress by visiting the conference page.
Reference
Westeel V, Barlesi F, Foucher P, et al. Results of the phase III IFCT-0302 trial assessing minimal versus CT-scan-based follow-up for completely resected non-small cell lung cancer (NSCLC). Presented at: 2017 ESMO Congress; Madrid, Spain: September 8-12, 2017. Abstract 1273O.