June 21, 2018
Better Quality of Life With Nab-Paclitaxel Added to Gemcitabine in Pancreatic Cancer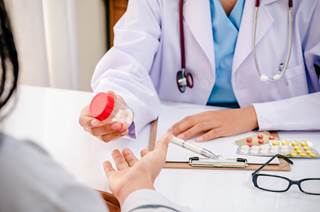 The combination of nab-paclitaxel plus gemcitabine improved quality of life scores and increased time to deterioration compared with gemcitabine monotherapy in patients with pancreatic ductal adenocar
The combination of nab-paclitaxel plus gemcitabine improved quality of life scores and increased time to deterioration compared with gemcitabine monotherapy in patients with pancreatic ductal adenocarcinoma (PDAC), according to results of a phase 2 trial presented at the ESMO World Congress on Gastrointestinal Cancer 2018.1
The addition of nab-paclitaxel to gemcitabine prolonged overall and progression-free survival and increased response rates compared with single-agent gemcitabine. This study evaluated the effect of the combination on quality of life.
The multicenter, phase 2 trial randomly assigned 146 patients with locally advanced or metastatic PDAC to receive 1000 mg/m2 of gemcitabine with or without 125 mg/m2 nab-paclitaxel. Cross-over to the combination was allowed at progression. The primary endpoint was deterioration-free rate and a clinically relevant deterioration was considered to be a 10-point decrease in global health status (GHS). Secondary endpoints included safety, overall survival (OS), progression-free survival (PFS), and response rate.
The median age at baseline was 65 years and 86% of patients had metastatic disease. The median duration of treatment was 5 months, and the total cumulative drug exposure to nab-paclitaxel was 73% of the planned dose. Overall, 25% of patients crossed over to receive the combination after progressing during monotherapy.
The combination prolonged time to deterioration, with a 3-month deterioration-free rate of 83% compared with 60% in the monotherapy group and 96% in the cross-over group. The median time to definitive deterioration was 12.8 months with the combination compared with 8.9 months and 12.3 months with gemcitabine monotherapy or after cross-over, respectively.
Tumor response occurred in 43% (95% CI, 31% - 55%) of patients who received nab-paclitaxel plus gemcitabine compared with 19% (95% CI, 6% - 32%) receiving monotherapy and 24% (95% CI, 10% - 39%) who crossed over to the combination.
PFS was similar among groups, with a median of 7.4, 7.2, and 5.4 in the combination, monotherapy, and cross-over groups, respectively. The overall median PFS was 6.8 months (95% CI, 0.7 - 28.1 months). The combined median OS was 11.9 months (95% CI, 10 - 14 months), and the median in the combination, monotherapy, and cross-over groups were 10.7, 8.8, and 13 months.
Adverse events occurred in 51% and 37% of patients in the combination and single-agent arms, respectively, with the most common including gastrointestinal toxicities or infections. There were 6 deaths, 1 of which was possibly related to treatment with gemcitabine.
The authors concluded that nab-paclitaxel plus gemcitabine improved quality of life for a longer period than single-agent gemcitabine. Additional quality-of-life analyses are ongoing.
Read more of Cancer Therapy Advisor's coverage of the ESMO World Congress on Gastrointestinal Cancer 2018 meeting by visiting the conference page.
Reference
Chiritescu G, Dumon K, Verslype C, et al. Gemcitabine with nab-paclitaxel in patients with locally advanced or metastatic pancreatic ductal adenocarcinoma (PDAC): A quality of life randomized cross-over study (QOLINPAC) Ann Oncol. 2018;29 (suppl 5;abstr O-003):v101. doi:10.1093/annonc/mdy149