March 09, 2018
AHCC and Cancer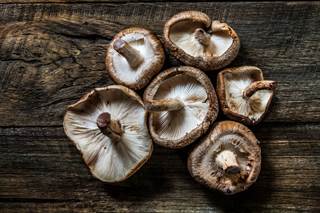 Two small studies suggest that AHCC may improve outcomes among patients with liver cancer.
Active hexose correlated compound (AHCC) is a widely sold health supplement extracted from Basidiomycete mushrooms (eg, shiitake [Lentinula edodes]) that is purported to improve immune function.
AHCC has been evaluated in in vitro, in vivo, and in-human studies because of its antioxidant and immune-enhancing effects. Most in-human studies have evaluated its effect on reducing toxicities associated with anticancer treatments.
Animal Models
Studies using rodent models have evaluated the efficacy of AHCC in the incidence and outcomes of cancer, and reducing toxicities associated with treatment. For example, AHCC treatment of mice inoculated with melanoma or lymphoma cells resulted in delayed tumor development.1 Another study found that AHCC treatment of mice inoculated with acute myeloid leukemia cells resulted in prolonged survival compared with mice that did not receive AHCC.2
Several studies also evaluated AHCC in combination with other anticancer therapies. A study of BALB/cA mice demonstrated that AHCC enhanced the efficacy of cisplatin, resulting in smaller tumors compared with mice that received cisplatin only.3
A breast cancer mouse model found that AHCC did not affect tamoxifen or letrozole efficacy, but had some cytotoxic effect on its own.4 In this study, AHCC also increased food intake, improved blood urea nitrogen and serum creatinine levels, and reduced bone marrow suppression. Another study showed that AHCC reduced myelosuppression and reversed liver injury associated with 5-fluorouracil treatment.5
Some of the improvements in outcomes or toxicities were accompanied by increased levels of CD4- and CD8-positive T cells and cytokines such as interleukin (IL)–2 and tumor necrosis factor (TNF)–alfa.1,5 One study suggested, furthermore, that AHCC induced the extrinsic apoptotic pathway in cancer cells.2