December 18, 2012
Consejos para los proveedores de cuidado: ¿Cómo puede ayudarse usted mismo?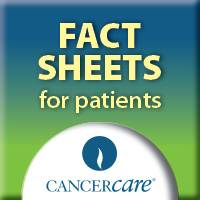 This fact sheet offers Spanish-speaking cancer caregivers tips about how to take time to care for themselves.
Ser un proveedor de cuidado puede ser un trabajo de tiempo completo. Concentrarse en sus propias necesidades es una parte importante de ese trabajo.
A continuación le ofrecemos algunas ideas sobre cómo lidiar con los retos que conlleva cuidar a su ser querido con cáncer:
Busque ayuda. Decida cuáles necesidades de su ser querido puede o le gustaría satisfacer usted solo y con cuáles necesita ayuda. Luego pídale a amigos, familiares, vecinos, compañeros de trabajo o profesionales que compartan el cuidado con usted.
Lo ideal sería que muchas personas quisieran ayudar. La realidad es que puede ser que encuentre sólo una o dos, pero esas personas pueden hacer una diferencia. También verifique con agencias comunitarias, instituciones religiosas o el trabajador social de su hospital para información sobre programas de cuidado voluntario y de relevo.
Busque apoyo. Asista a un grupo de apoyo para proveedores de cuidado. Hablar con otros proveedores de cuidado que entienden cómo se siente y comparten sus experiencias con la misma situación, pueden ayudarlo a sentirse menos solo.
Por otro lado, el apoyo individual le provee la oportunidad de explorar algunas de las complejidades de ser un proveedor de cuidado y de manejar/preservar su propia rutina diaria. CancerCare ofrece apoyo individual y de grupo a proveedores de cuidado a través de toda la nación.
Manténgase informado. Busque apoyo en su equipo de cuidado médico. Hable con el médico o enfermera, con el permiso de su ser querido. Haga una lista de preguntas y escriba las respuestas para poder referirse a ellas nuevamente.
Pregunte quién más del equipo de cuidado médico está disponible para usted (por ejemplo, un trabajador social en oncología, una enfermera en oncología, un farmacéutico, etc.).
Entienda sus derechos. Conozca la Ley de Licencia Médica y Familiar. La mayoría de los empleadores están obligados a proveer hasta 12 semanas de licencia laboral protegida y sin paga para los familiares que necesiten tiempo libre para atender a un ser querido. Para recibir ayuda con las normas y regulaciones de seguros, comuníquese con un administrador de caso de su compañía de seguro.
Muchas compañías de seguro asignarán administradores de caso para ayudarle a manejar sus inquietudes relacionadas con el seguro, clarificar beneficios, y sugerir formas de obtener servicios relacionados al cuidado de la salud.
Haga algo bueno por usted. Planee unos momentos para usted, aunque sea solo una caminata por el vecindario. Mímese usted mismo y recompénsese por todo el trabajo que hace.