August 27, 2012
Fuentes de Asistencia Financiera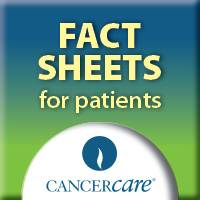 This fact sheet for Spanish-speaking patients lists a number of cancer organizations and agencies that provide financial assistance.
En Español
Los costos financieros asociados al cáncer son a menudo exorbitantes. Ni siquiera tener seguro médico le garantiza poder costear el tratamiento. Es preferible iniciar una investigación temprana de sus opciones antes de que le afecte una crisis financiera.
Esta hoja informativa presenta una lista de varias fuentes financieras disponibles para personas con cáncer. Verifique con cada agencia u organización si usted califica para recibir ayuda.
Asistencia gubernamental
Hay diversos programas federales y estatales que brindan beneficios financieros a individuos y familias. Esos beneficios, conocidos como derechos (en inglés entitlements), primariamente se han establecido para hogares de bajos ingresos, ancianos y discapacitados. Cada uno tiene sus requisitos de elegibilidad.
También hay programas administrados a través de los gobiernos estatales que pueden ayudar en las necesidades relativas al cuido de pacientes. Los programas de asistencia gubernamental incluyen:
Departamento de Salud y Servicios Humanos
Información sobre asistencia pública y estampillas de comida
Busque la oficina local en la guía telefónica
www.hhs.gov
Llamada gratuita: 1-877-696-6775
(oprima 2 para español)
Administración de los EE.UU. para los Ancianos
Beneficios para adultos de edad avanzada
1-800-677-1116
(oprima 2 para español)
Seguro Social
1-800-772-1213
(oprima 2 para español)
http://www.ssa.gov/espanol/
Medicare y Medicaid
1-800-633-4227
Eldercare Locator
(Agencias Locales para Personas de Edad)
www.eldercare.gov
---
Programas de asistencia farmacéutica a pacientes
Los programas y servicios ofrecidos difieren de compañía a compañía, pero pueden incluir:
Ayuda con desembolsos de seguros
Referencias a programas de alivio por copago
Ayuda con el proceso de aplicacion
Medicinas gratis o con descuento para pacientes que no califican para otras formas de asistencia
Para ver si la compañía farmacéutica que produce su medicamento tiene un programa de asistencia a pacientes, verifique en su sitio web. Usted puede también preguntarle a su doctor o verificar con la Sociedad de Asistencia en Prescripciones (Partnership for Prescription Assistance - PPA). La PPA tiene una lista de programa farmeceuticos y otros recursos de asistencia financiera.
La Alianza para la Asistencia con los Medicamentos Recetados
1-888-477-2669
(oprima 2 para español)
http://www.pparx.org/es