March 20, 2012
Improving Your Concentration During Cancer Treatment: Three Key Steps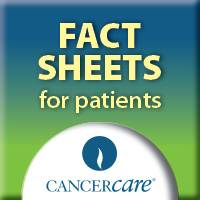 This fact sheet educates patients on how to establish and improve concentration during cancer therapy, chemotherapy.
This fact sheet is part of CancerCare's Chemobrain Information Series
Concentration is your ability to work without letting people, feelings or activities get in the way. There are three steps to developing your concentration abilities: establishing concentration, increasing concentration, and developing the concentration habit.
This fact sheet provides tips on how to develop each of these abilities.
Establishing Concentration
Be aware of external distractions and separate yourself from them. For example, give yourself permission to let your answering machine pick up calls and not to check your email while you're working on a task. Or, ask your family for an hour of uninterrupted quiet time.
Try to recognize these distractions and take care of them. Internal distractions such as thoughts, emotions, physical feelings, hunger and tiredness can interrupt your ability to focus. Do something about the things that are bothering you before you start the task at hand. For instance, if you know that you are hungry, eat before you start a task.
Stop distracting thoughts that pop into your mind as soon as you are aware of them. You can do this by "noticing" the thought, and then consciously bringing your attention back to the task at hand.
Keep a reminder pad handy. If something that you have to do pops into your head, jot it down to get it off your mind.