December 07, 2018
Differences in Treatment Site of Care: Why Is My Insurer Sending Me to a Particular Treatment Center?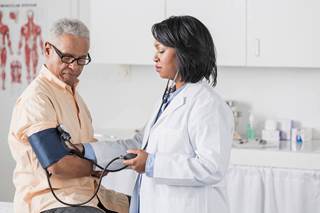 This fact sheet discusses the differences in cost between cancer care at physician offices and health system-based sites of care.
Patients with cancer who receive an intravenous therapy attend an infusion clinic — either at a dedicated outpatient infusion center, at a hospital, or at a community oncology clinic.1Patients traditionally have received infused anticancer agents from their community oncology clinic, but this trend is changing. Increasingly, private oncology clinics are being acquired or enter into partnerships with hospitals.2As a result, the site of care for infusions is shifting toward an outpatient hospital service.1
Insurers, however, may deny the use of certain infusions centers and send patients to an alternative center. Patients are likely confused about why this is occurring, and how these directives could influence their cost of care.
Site-of-Care Costs
The cost of hospital-based care compared with community-based infusion centers has been discussed in the medical literature — multiple studies have shown that hospital-based infusion centers are more expensive and do not provide any additional benefits in quality of care.
A retrospective analysis of infused cancer therapy between 2008 and 2012 demonstrated that total health care costs were 15% higher among patients whose site of care was in the outpatient hospital setting compared with patients who received therapy in their physician's office ($55,965 vs $48,439, respectively, P < .0001), despite patients in the outpatient hospital setting receiving fewer infusions and having a shorter duration of therapy.3There was no difference in the quality of the end-of-life care provided between the sites of care.
Similarly, a retrospective study of 18,740 patients who received intravenous chemotherapy or biologic therapy for metastatic solid tumors or hematologic malignancies demonstrated that all-cause costs and cancer-related health care costs were substantially higher in patients who received care in the hospital outpatient setting compared with those who received their care from their physician offices, with no difference in quality-of-care metrics.4
Another study focused on health insurance utilization demonstrated that for each cancer type evaluated, the per-member-per-month cost was significantly lower for those who received care in a community setting compared with a hospital outpatient setting (P< .001).1The cost difference applied to chemotherapy and supportive-care drugs, as well as to other related medical expenses.
This price trend is not limited to oncology care. A study of the Truven Health MarketScan Commercial Claims and Encounters Database between 2008 and 2013 found that hospital outpatient departments charged a mean of 2 to 3 times more than physician offices for similar services across different specialities.5
The cost differential between community-based and outpatient hospital-based sites has led insurers to direct patients to primarily receive infusions from a physician's office or an infusion center, and away from an outpatient hospital setting.6
However, insurer direction to a specific site-of-care may change in the future. The Centers for Medicare and Medicaid Services (CMS) proposed changes in hospital outpatient payment, which could take effect in 2019.7One purpose of the proposed change is to make payments more similar across sites of care, which could help resolve the limitations set by insurers on site-of-care selection.