October 12, 2018
A Vegan Diet and Cancer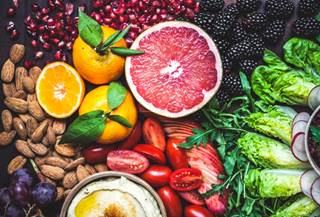 There are no data on whether a vegan diet is an effective means of cancer prevention among high-risk populations.
A vegan diet is characterized by abstaining from the use of any animal products, including the consumption of meat, eggs, and dairy products.1 The position of both American Dietetic Association and the Academy of Nutrition and Dietetics is that an appropriately planned vegan diet provides sufficient nutrition and may offer additional health benefits during all stages of life.2,3
It is estimated that approximately 2% of the population in the United States follows a vegan diet. As a result, few prior prospective studies stratified their data by type of vegetarian, including veganism, making it difficult to draw definitive conclusions regarding the effect of a vegan diet on cancer risk. Most studies suggest that a vegan diet lowers the risk of any cancer, but few show significance for individual cancer type.4
All Cancer
Although there are a limited number of studies examining the impact of a vegan diet on cancer risk, a 2017 meta-analysis found that a vegan diet significantly lowered the risk of total cancer by 15% compared with nonvegetarians (relative risk [RR], 0.85; 95% CI, 0.75-0.95; P = .002).4 These data are consistent with the findings from perhaps the largest prospective studies including vegan cohorts: the EPIC-Oxford study and the Adventist Health Study (AHS).
In a pooled analysis that included 2246 vegans from the Oxford Vegetarian Study and EPIC-Oxford, the risk of developing any cancer was significantly reduced by 19% compared with omnivores (RR, 0.81; 95% CI, 0.66-0.98; P-heterogeneity = .001). But, this finding was no longer significant after adjusting for patient body mass index (BMI); after fine-tuning the results to account for BMI, the RR for vegans for all cancers combined changed from 0.81 to 0.82 (95% CI, 0.68-1.00; P-heterogeneity = .006). 5 Similarly, a pooled analysis of 3 Adventists cohorts (drawn from the Adventist Mortality Study, the AHS, and the AHS-2) demonstrated a significant, 14% decrease in the risk of all cancer (hazard ratio [HR], 0.86; 95% CI, 0.73-1.00; P = .03).6 This analysis also stratified the data by gender and found a trend suggesting that males may benefit from a vegan diet more than females.