November 20, 2014
For BRAF-Mutated Colorectal Cancer, Encorafenib, Cetuximab, and Alpelisib May Be Effective
the Cancer Therapy Advisor take:
According to new preliminary findings presented at the 26th EORTC-NIC-AACR Symposium on Molecular Targets and Cancer Therapeutics in Barcelona, Spain, researchers have found that a combination of cetuximab, an epidermal growth factor receptor (EGFR) inhibitor, encorafenib, a BRAF inhibitor, and alpelisib, a PI3K pathway inhibitor, may be an effective treatment for patients with BRAF-mutated advanced colorectal cancer.
For the phase 1 study, which is still continuing to enroll participants, patients with BRAF-mutated colorectal cancer were randomly assigned to receive encorafenib orally once daily plus cetuximab 250mg/m2 weekly (400mg/m2 initial loading dose) with or without alpelisib orally once daily.
Results showed that the two-drug combination shrank tumors in 23% of patients compared with 32% in the three-drug combination group. In addition, the median duration of progression-free survival was 16 weeks and 19 weeks for the two-drug and three-drug combination groups, respectively.
The researchers note that although the standard of care is not being compared in this study, the progression-free survival times observed in this study are nearly double those for patients who have been treated with standard therapy in the past. Furthermore, the combination of drugs was generally well-tolerated among patients.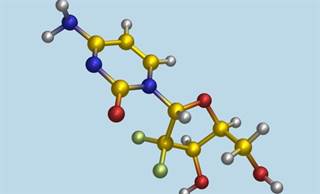 Cetuximab, encorafenib, and alpelisib, may be an effective treatment.
Patients with a form of advanced
colorectal cancer
that is driven by a mutated version of the BRAF gene have limited treatment options available. However, results from a multi-centre clinical trial suggest that the cancer may respond to a combination of three targeted drugs.
Professor Josep Tabernero, head of the medical oncology department at Vall d'Hebron University Hospital and director of the Vall d'Hebron Institute of Oncology, Barcelona, Spain, will tell the 26th EORTC-NCI-AACR Symposium on Molecular Targets and Cancer Therapeutics in Barcelona today (Friday) that he and colleagues in a number of different countries are investigating a BRAF inhibitor, encorafenib, combined with cetuximab, which inhibits the epidermal growth factor receptor (EGFR), with or without a third drug, alpelisib, which inhibits another cancer-causing pathway called PI3K, in a phase I clinical trial for patients with advanced BRAF-mutated colorectal cancer.
Related Resources
Sign Up for Free e-newsletters
Regimen and Drug Listings
GET FULL LISTINGS OF TREATMENT Regimens and Drug INFORMATION