September 11, 2015
XELOX as Standard Adjuvant Treatment Option for Stage 3 Colon Cancer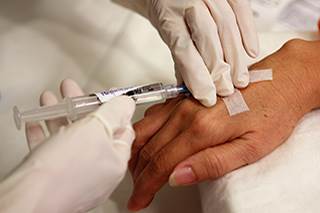 Adjuvant XELOX improved overall survival compared with bolus 5-FU/FA in patients with resected stage 3 colon cancer.
Adjuvant capecitabine plus oxaliplatin (XELOX or CapeOx) improved overall survival compared with bolus fluorouracil/folinic acid (leucovorin) (5-FU/FA) in patients with resected stage 3 colon cancer after a median follow-up of nearly 7 years, final results of a study have shown.1
According to data from the National Cancer Institute's Surveillance, Epidemiology, and End Results (SEER) database, patients diagnosed with stage 3A, 3B, and 3C colon cancer between 2004 and 2010 had a 5-year relative survival rate of 89%, 69%, and 53%, respectively.2
Previously, bolus 5-FU/FA was recognized as the standard adjuvant treatment regimen for patients with stage 3 colon cancer; however, the addition of oxaliplatin to 5-FU and leucovorin significantly improved 3-year disease-free survival when given as adjuvant therapy for patients with stage 2 or 3 colon cancer.1
"Capecitabine had been shown to be equivalent to 5-FU/leucovorin in stage 3 colon cancer," Daniel G. Haller, MD, FACP, FRCP, professor of medicine emeritus at Abramson Cancer Center and the Perelman School of Medicine at the University of Pennsylvania in Philadelphia, said in an interview with Cancer Therapy Advisor. "When the MOSAIC trial showed the additional benefit of oxaliplatin, it was necessary to extend these observations with the oral drug."
For the phase 3 XELOXA study, researchers sought to evaluate the impact of XELOX versus bolus 5-FU/FA on disease-free and overall survival rates in patients with stage 3 disease.
RELATED: Higher Coffee Intake May Be Linked With Reduced Colon Cancer Recurrence, Death
A total of 1,986 patients were randomly assigned 1:1 to receive oxaliplatin 130 mg/m2 on day 1 plus capecitabine 1,000 mg/m2 twice daily on days 1-14 every 3 weeks for 8 cycles, or bolus 5-FU/FA, as the Mayo Clinic or Roswell Park regimens, for 6 months.1
Results showed that the 7-year disease-free survival rates were 63% in the XELOX group and 56% in the 5-FU/FA group (HR = 0.80; 95% CI: 0.69-0.93; P=0.004). Researchers found that 7-year overall survival rates were 73% and 67%, respectively (HR = 0.83; 95% CI: 0.70-0.99; P=0.04).1