April 08, 2015
Treatment Options for Peritoneal Carcinomatosis Associated with Colorectal Cancer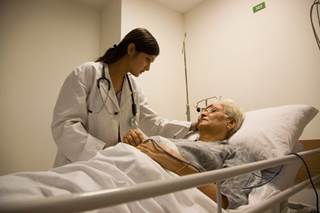 As newer treatment options for peritoneal carcinomatosis are developed, more clinical data is needed to support use in patients with colorectal cancer.
Traditionally, PC secondary to ovarian cancer has been more responsive to chemotherapy than PC secondary to CRC, however these newer treatment modalities have provided some hope in the form of prolonged survival.1,2
Older systemic chemotherapy regimens such as 5-flurouracil (5FU) and leucovorin provided a limited survival benefit of around 7 months while additional agents like oxaliplatin and irinotecan were able to extend survival to approximately 23 months.2
The newer treatment regimens (CRS and HIPEC) have shown survival benefit of up to 63 months with a 5-year survival near 50%.2
There are several scales that rate the extent of PC and provide a prognostic estimate that can help stratify patients for potential treatments.
These scales include the Peritoneal Cancer Index (PCI) and the Peritoneal Surface Disease Severity Score (PSDSS). The scales can include information regarding the patient's symptoms as well as the location and size of the patient's PC tumor burden.2,3
Certain patients who have a poor prognosis based on these scales may not be the ideal candidates for more aggressive surgery or chemotherapy.2
For example, the 5-year survival rates of patients with CRC who have PC based on the PCI include: 50% with PCI 10 or less, 20% with PCI of 11 to 20, and 0% with PCI more than 20.3
Therefore, patients with a PCI of more than20 are typically not considered candidates for the newer, more aggressive therapies.
RELATED: Women Overweight in Youth May Face Higher Colorectal Cancer Risk
Many patients with extensive liver metastases and intra-abdominal lymphadenopathy may also be considered to have relative or absolute contraindications to the newer treatments secondary to poor prognosis.
As with many of the new and upcoming oncology treatments, additional clinical data is needed to continue to support the use of newer treatment options in PC associated with CRC.
These newer options, such as cytoreductive surgery and HIPEC, may provide a certain subgroup of patients with PC an additional survival benefit that they were not candidates for.
References
Koppe MJ, Nagtegaal ID, de Wilt JH, Ceelen WP. Recent insights into the pathophysiology of omental metastases. J Surg Oncol. 2014;110(6):670-675.
Arjona-Sánchez A, Medina-Fernández FJ, Muñoz-Casares FC, et al. Peritoneal metastases of colorectal origin treated by cytoreduction and HIPEC: An overview. World J Gastrointest Oncol. 2014;6(10):407-412.
Sugarbaker PH. Successful management of microscopic residual disease in large bowel cancer. Cancer Chemother Pharmacol. 1999;43 Suppl:S15-S25.