July 18, 2014
Colorectal Cancer Screening Improved Via Detection of Methylated Wif-1 Gene
the Cancer Therapy Advisor take:
Each year colorectal cancer (CRC) incidence has increased by 3% to 4% since the 1970s. Because CRC progresses from polyps to advanced CRC, early detection is possible for patients who do not display symptoms. While colonoscopy is considered the "gold-standard method" for CRC screening, patients in most countries undergo guaiac fecal occult blood tests (FOBT) because they are minimally invasive and have lower costs. FOBT have low sensitivity, however, because early precancerous lesions produce low blood concentrations in the stool. Iradj Sobhani, MD, PhD, and researchers studied 247 patients who underwent colonoscopies. They were then assigned to control groups, which had no or little adenomas, and neoplasia groups, which had large adenomas. An adenoma was considered large when it measured more than 1 cm in diameter. For FOBT, 46 patients tested positive. Seventy-eight percent of those patients had advanced neoplasia and 72 percent had CRC. In addition, 146 patients tested negative, but 27 percent of those patients had advanced neoplasia and 17 percent had CRC. Researchers then tested methylation levels of Wif-1, ALX-4, and Vimentin in fecal, urine, and serum samples. Results indicated that the neoplasia groups had higher methylated Wif-1 levels in urine and serum samples than the control group. Statistical analysis showed that FOBT was insignificant compared to methylated Wif-1 gene levels.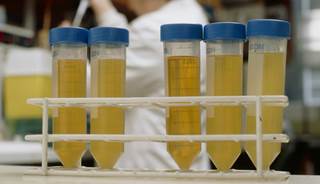 Colorectal Cancer Screening Improved Via Detection of Methylated Wif-1 Gene
The detection of methylated Wif-1 in either S or U has a higher performance accuracy compared to guaiac FOBT for advanced colorectal neoplasia screening. Conversely, fecal microbiota dysbiosis detection was not more accurate. Blood and urine testing could be used in those individuals reluctant to undergo stool testing.
Related Resources
Sign Up for Free e-newsletters
Regimen and Drug Listings
GET FULL LISTINGS OF TREATMENT Regimens and Drug INFORMATION