September 10, 2014
Immunotoxins May be Effective to Treat Colon Cancer
the Cancer Therapy Advisor take:
According to a study published in Oncotarget, immunotoxins, cancer-targeted antibodies bound to toxins like ricin, can attach to key receptors on the surface of colon cancer cells, thereby delivering the toxin to the cancer and killing them. In the study, researchers administered the immunotoxin to lung metastases from colon cancer in mice and found that the metastases were reduced by more than 80% after only six doses.
Scott Waldman, MD, PhD, discovered GUCY2C receptors on colon cancer cells in 1993. Although the receptors are also found on normal cells, they are hidden from the immune system. In the study, researchers found that colon cancer cells absorb the GUCY2C receptors via endosomes. When the immunotoxins bind to the GUCY2C receptors on cancer cells, the cancer cells absorb the receptors, antibodies, and toxins. When lysosomes free the toxin from the antibody, the toxin destroys the cancer cell from the inside.
Waldman has used ricin, but the findings from this study show demonstrate that various agents can be used to create immunotoxins. He also notes that those with esophageal, gastric, and pancreatic cancers could also benefit, as those cancers express GUCY2C receptors as well. Phase 2 clinical trials are currently underway to test the method in those with esophageal and prostate cancers.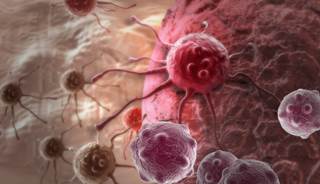 Immunotoxins can attach to key receptors on the surface of colon cancer cells.
These days, cancer researchers aim to design targeted and specific therapy - those that kill cancer but spare the surrounding tissue. Immunotoxins, which use cancer-targeted antibodies linked to deadly toxins such as ricin, are one such therapy. However, few have succeeded to date in part because cancer cells share many molecules with normal cells, and because it can be challenging to unlock the deadly chemical only after the antibody has homed to the diseased tissue.
Now researchers at Thomas Jefferson University have discovered the unique biological properties inherent to colon cancer that make it a perfect candidate for immunotoxins - an antibody that won't attach to normal cells and a toxin-delivery system that takes advantage of a fluke of biology: Colon cancer cells will gobble up poison if it's attached to a key receptor on the cell's surface.
Related Resources
Sign Up for Free e-newsletters
Regimen and Drug Listings
GET FULL LISTINGS OF TREATMENT Regimens and Drug INFORMATION