September 15, 2014
Patients with Esophageal Cancer Who Receive Radiation Therapy Alone Experience Fewer Swallowing Complications
the Cancer Therapy Advisor take:
According to new research presented at the American Society for Radiation Oncology's (ASTRO) 56th Annual Meeting in San Francisco, California, patients with advanced esophageal cancer who underwent radiation therapy (RT) alone experienced fewer swallowing complications compared with patients that received RT plus chemotherapy.
In the international study, researchers enrolled 220 patients who were randomly assigned to receive either radiation therapy alone or concomitant radiotherapy plus chemotherapy. Chemotherapy included cisplatin and fluorouracil (5-FU). About 68% of patients who received RT alone reported decreased pain from swallowing compared with approximately 74% that received combination therapy (P=0.343). Median survival was 203 days and 210 days for patients who received RT alone and combination therapy, respectively. Furthermore, patients that received chemotherapy reported experiencing nausea (P=0.0019) and vomiting (P=0.0072).
Patients with advanced esophageal cancer often experience dysphagia, or difficulty swallowing. Researchers suggest that RT alone should be considered as a palliative care option due to its decreased toxicity and similar effectiveness at decreasing swallowing complications compared with RT plus chemotherapy. The addition of chemotherapy may be adding unnecessary toxicities and costs.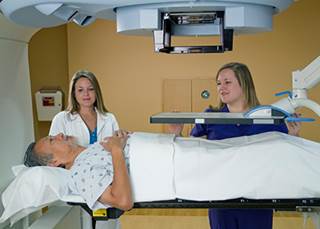 Esophageal cancer patients who underwent RT alone experienced fewer swallowing complications.
Radiation therapy (RT) alone is as effective in decreasing swallowing complications experienced by advanced esophageal cancer patients as RT combined with chemotherapy, thus allowing patients to forgo chemotherapy, according to research presented today at the American Society for Radiation Oncology's (ASTRO's) 56th Annual Meeting.
In this international study that included sites in Australia, New Zealand, Canada and the United Kingdom, researchers assessed the use of palliative chemotherapy combined with RT, or chemoradiotherapy (CRT), to provide relief from dysphagia.
Related Resources
Sign Up for Free e-newsletters
Regimen and Drug Listings
GET FULL LISTINGS OF TREATMENT Regimens and Drug INFORMATION