May 19, 2015
Do Patients with Locally Advanced Rectal Cancer Benefit from Adjuvant Chemotherapy?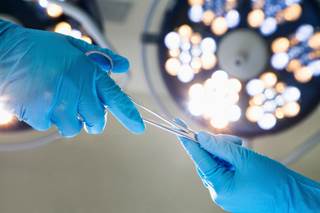 A recent letter in JCO discusses whether patients with locally advanced rectal cancer need adjuvant chemotherapy.
Although postoperative adjunctive chemotherapy for the treatment of patients with locally advanced rectal cancer is a common regimen, modern data suggest that it lacks benefit in some patients, according to a discussion published in the Journal of Clinical Oncology by Theodore S. Hong, MD, and David P Ryan, MD, both of the Massachusetts General Hospital and Harvard Medical School in Boston, MA.1
Postoperative adjuvant chemotherapy was adopted for the treatment of locally advanced rectal cancer prior to the introduction of mesorectal excision.2,3 In this setting, fluorouracil resulted in improved overall survival (OS) and reduced the risk of distant metastases by 25% to 30%.4
As a result, the National Comprehensive Cancer Network Version 2.2015 guideline recommends fluorouracil, leucovorin, and oxaliplatin (FOLFOX) or capecitabine and oxaliplatin (CAPEOX) perioperatively for 6 months. In addition, a common regimen for stage II or III rectal cancer includes the administration of preoperative chemoradiotherapy, then total mesorectal excision (TME) followed by adjuvant fluoropyrimidine with or without oxaliplatin for 4 months.
However, Drs. Hong and Ryan pointed out that, "The field of rectal cancer has changed substantially in three ways that make applying information from the early trials problematic."
RELATED: Regorafenib Improves Survival in Treatment-Refractory Colorectal Cancer
This includes the routine use of neoadjuvant chemoradiotherapy, standard use of TME that has substantially decreased the risk of local recurrence,5 and improved imaging technology that has greatly improved the accuracy of staging.
These changes lead to the question of whether there is data that accounts for these advances and demonstrates a benefit of postoperative adjuvant chemotherapy in patients who have received preoperative radiation or chemoradiation. Drs. Hong and Ryan stated, "The simple answer is no."
Several randomized, controlled trials have been conducted that evaluated the effect of postoperative chemotherapy after preoperative radiation or chemoradiation therapy, such as EORTC 22921,6 CHRONICLE,7 an Italian trial,8 and PROCTOR/SCRIPT,9 yet none demonstrated an OS or disease-free survival (DFS) benefit.